Alfa Romeo Giulietta Sportiva Nav 2014 review
Stylish Alfa Romeo Giulietta Sportiva hatch gets new trim levels and improved cabin for 2014
This is a new lease of life for the Alfa Romeo Giulietta Sportiva Nav hatch, arriving in the form of some subtle but well executed styling updates, as well as four new trim levels that are more clearly defined. Better still, it has the latest version of the 2.0-litre JTDm diesel engine, which benefits from lower emissions and improved performance.
The Alfa Romeo Giulietta has had a little nip and tuck. For starters, the model's four trim levels have been reorganised and renamed. The entry car is Progression, followed by Distinctive, Exclusive and Sportiva Nav. There have been price increases, too, but Alfa claims the new trim levels offer better value – the latter two represent savings of £2,000 and £2,500 respectively.
Visually, not a great deal has changed; subtle grille tweaks and redesigned front foglight bezels sum things up, although Alfa is now offering more paint colours, with Cobalto Blue of particular note. Wisely, more budget has been spent on updating and improving the cabin, which especially in the Sportiva Nav spec, feels more upmarket. It's not a match for the Volkswagen Golf, but is a marked improvement.
Optional tan leather on the dash and doors brightens things up, while the quality of the other materials is more in keeping with buyer expectations. A five-inch touchscreen, Bluetooth and DAB are standard in all models, and Sportiva Nav has sat-nav accessed via a larger 6.5-inch hi-res infotainment screen. This is worth the extra money if you're buying a lower trim level, and it helps to give the restyled dashboard a cleaner look.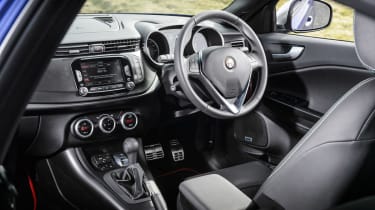 Alfa's 2.0-litre diesel gains 10bhp and develops its peak torque of 380Nm at only 1,750rpm, which makes it feel punchy low down in the rev range. It's not too noisy, either, sounding rattly only as you approach the red line.
The gear ratios have been tweaked to give lower revs at higher speed, which helped the Giulietta return 52mpg with us. Improved sound insulation is another positive. A reduction in emissions by 9g/km might not be headline news, but it does drop the Giulietta down into the 17 per cent BIK band, which will be a bonus for business buyers. In short, this model was once solely for Alfa fans; now its appeal is much broadened.
For more cars like this, head to our best hatchbacks page.