Britain's Best Tow-Cars
Which new model is king for caravan owners? We hitch up the market's top buys to name a winner...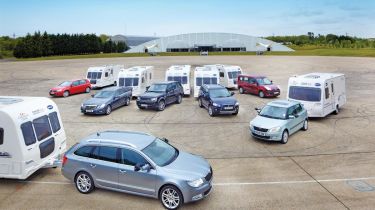 Stay-at-home holidays have made a huge comeback over the last few years – and that has seen caravan sales rocket skyward. In the past 12 months, the UK market has grown by a massive 16 per cent.
Of course, a caravan is no use without a car big enough to tow it. Size isn't everything, though, and when you're looking to buy, you need to consider economy, flexibility and running costs, as well as towing ability.
So which is Britain's best tow car? The only way to find out is to put the leading contenders to the test – and that is exactly what Auto Express has done. We joined the experts at The Caravan Club to help judge their prestigious Tow Car of the Year awards for 2011.
A total of 35 models fought it out for victory in five price ranges. Two four-wheel-drive prizes were also up for grabs in the fiercely contested competition. Each car was put through a series of rigorous tests to rate stability, hill starts and general towing ability at the Millbrook Proving Ground, Beds.
So whether you're a first-timer searching for a small tow car or a more experienced caravanner wanting to upgrade, look no further as we reveal this year's winner.
How we did it:
Each car was tested with a laden caravan in tow. First up was a two-mile drive on Millbrook's high-speed bowl, followed by emergency stops from 40mph and 30mph in the braking area. Then it was on to the Alpine Hill route, which features a twisty road with gradients of up to 17 per cent. Running costs, CO2 emissions and economy were also taken into account when coming to a final decision.
All caravans were supplied loaded to 85 per cent of the relevant car's kerbweight. Noseweights were set at the auto manufacturer's recommended limit, five to seven per cent of the van's running weight or the maximum stipulated weight for the coupling head – whichever was lowest. Thanks to Bailey Caravans of Bristol, which supplied our test units and the staff to hitch and unhitch each combination.
Special thanks to:
Established in 1907, the Caravan Club is Europe's largest touring organisation – and this is the third year in a row in which we have helped judge its Tow Car of the Year. Visit their website at http://www.caravanclub.co.uk/.