BMW 6 Series vs M635 CSi
BMW says its new 640d will be the best-selling 6 Series ever. How does it match up against legendary eighties M635 CSi?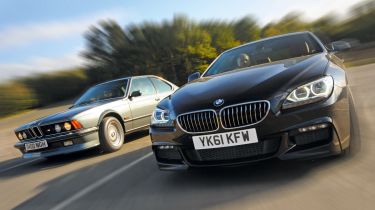 Believe it or not, the new diesel version of the BMW 6 Series is predicted to account for an incredible 93 per cent of the model's UK sales. The company expects the 640d to be the most successful version yet, and it's easy to see why.
Here's a car that can sprint from 0-60mph in only 5.4 seconds, yet return claimed economy of up to 51.4mpg. Low emissions and a four-seater interior packed with gadgets do the rest.
The newcomer is in a class of one, because none of its rivals offers the option of a diesel engine. As a result, nothing on sale today comes close to matching its mixture of talents, so we decided to look to the past instead.
In 1986, the BMW M635 CSi set the benchmark for luxury GT performance cars. It was fitted with the same 3.5-litre engine as the legendary M1 supercar and its combination of blistering pace, rear-wheel-drive handling, muscular styling and cosseting comfort gave it cult appeal. And after 25 years, it has become a bona-fide classic.
The new diesel 6 Series may be faster and more economical than its potent petrol ancestor, but can it really live up to the legend?
Verdict
An impressive debut – the 640d's new diesel engine, long-haul comfort and luxurious cabin all make an impression. Not only is it faster, cheaper to run and nearly twice as economical as the M635 CSi, it also has a dazzling array of technology and safety equipment. It's no lightweight, yet with the optional Adaptive Drive dynamics, it's a remarkable machine.
But so is the M635 CSi. No matter how good the 640d's engine is, it can't match the spine-tingling soundtrack and pin-sharp responses of the old timer's straight-six powerplant. Sure, its handling isn't up to modern standards, but the M635 CSi is utterly engaging to drive.
Which is better? As they're from different eras, direct comparisons are pointless, but what the 640d does demonstrate is how much progress has been made in the last 25 years. We'd love to have both cars on our driveway.
1. BMW 640d
The 6 Series Coupe is better than ever, especially in diesel form. Its effortless ability to cover big mileages is peerless in this sector of the market, and the phenomenal performance of its twin-turbo engine means that even petrol-loving diehards won't be left feeling short-changed.
2. BMW M635 CSi
There's no denying the sense of occasion and nostalgia that comes attached to a car like the M635 CSi, even if you weren't around to see it first time. Driving one is an intoxicating experience and as one of the first BMWs to wear the M badge, it deserves a special place in automotive history.