Vauxhall Corsa VXR vs Renaultsport Clio
Latest hot hatches are named after famous circuits. But do they live up to their badges? We put the new Corsa and Clio head-to-head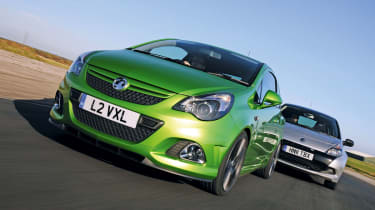 Naming a hot hatch after the most challenging race track in the world raises expectations. So it's a good job the new Vauxhall Corsa VXR Nurburgring Edition claims to deliver better performance and handling than the standard car.
The 1.6-litre turbocharged engine gets an extra 13bhp, upping power to 202bhp, while there's also a 20Nm torque increase. Other additions, such as lighter brakes, improved stability control, new dampers and a limited-slip differential, prove this Corsa VXR is much more than a mildly revised, marketing-driven special edition. However, it does command a premium of £3,395 over the standard car.
Vauxhall isn't the only company getting on the track-themed hatch bandwagon. The limited-edition Renaultsport Clio 200 Silverstone GP pays homage to Britain's Grand Prix circuit.
Unlike the Corsa, it doesn't feature any mechanical upgrades, but it does come with the highly praised Cup chassis. In this guise, the Clio is already the benchmark in its class for driver engagement and handling precision.
With silver paintwork, a black roof and red brake calipers, it really looks the part. And at £19,995, it's £2,300 cheaper than the Corsa.
We headed to Blyton Park Driving Centre in Lincolnshire to find out which one is on track for victory...
Verdict
The Nurburgring Edition is the hottest Corsa ever. It costs a huge £3,395 more than the standard car, but you can see where the money has gone, with revised suspension, a limited-slip diff and a power hike. The result is better traction and grip and punchier performance.
More reviews for Clio Renaultsport
Few hot hatches corner as hard as this track-inspired VXR and it's a capable road car, too. But for all its speed, it's simply not as involving as the Renault – and that's crucial in a sector where driver engagement is all-important.
The Clio 200 Silverstone GP doesn't feature any mechanical upgrades, yet the regular Clio Cup is already one of the finest-handling hot hatches around. With razor-sharp reactions, plenty of grip and a rev-happy engine, the new car raises a smile every time you take the wheel. It's also £2,300 cheaper than the Vauxhall – and that seals the Renault's victory here.
1. Renaultsport Clio 200 Silverstone GP It doesn't have the in-gear punch of the turbo Vauxhall, but the Clio's 2.0-litre engine loves being worked hard and performance is still a strong point. Thanks to a more communicative chassis, the Renault also has the upper hand for driver involvement. Subtle styling is a plus, and its silver paint and black roof look great.
2. Vauxhall Corsa VXR Nurburgring This accomplished hot hatch grips harder and is faster than the standard Corsa. But its chassis lacks the Clio's accuracy and involvement, and you need a track to appreciate it. The styling is an acquired taste, and while the car is exclusive, with only 250 coming here, it's pricey, too.