Range Rover Evoque eD4 vs rivals
New front-wheel-drive Evoque tackles its rivals from Audi and Volvo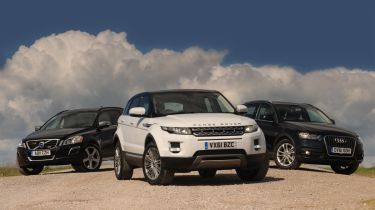 The Range Rover Evoque is a style statement first and a car second. Yet however you define our reigning Car of the Year, it's about to get a lot more affordable with the arrival of the new eD4 model.
It promises low CO2 emissions of 133g/km. To achieve this figure, the company has made a radical departure from tradition: the Evoque eD4 is the first two-wheel-drive Range Rover. It also comes with fuel-saving kit such as stop-start to improve economy, along with a six-speed manual gearbox.
The cheapest Pure-specification Evoque costs £27,960 and is sure to attract the attention of cost-conscious company car drivers, but it's not the only choice. The Audi Q3 has already proven to be a capable and affordable compact SUV in quattro four-wheel-drive form, but the £27,815 two-wheel-drive S line model is even more affordable than the Evoque eD4 and almost as efficient.
The joker in the pack is the Volvo XC60. It's bigger and more powerful than its rivals here, but clever DRIVe technology means it should be just as thrifty at the filling station. So will the Audi or Volvo be the first to inflict a road test defeat on the highly fashionable new Range Rover?
Verdict
Our contenders all aim to deliver the same desirable SUV experience as their four-wheel- drive counterparts, but with much lower running costs. So which does it best?
The Volvo certainly shouldn't be discounted on account of its age, as it still packs plenty of kerb appeal. What's more, it's spacious and refined. Yet it costs more to run, has lacklustre driving dynamics and less standard kit. As a result, it finishes last in this company.
Separating the Audi from the Range Rover is tougher. The Q3 isn't the last word in style, but its four-ring badge has plenty of upmarket appeal, its cabin is beautifully built and it's the best to drive. Factor in great fuel economy and it's hard not to be swayed. And yet the Audi can't quite topple the two-wheel-drive Evoque.
With its stunning looks, classy interior and generous equipment, the Range Rover is hard to resist. Extremely strong residuals and excellent refinement further strengthen its cause. Fuel economy isn't great, but that's a small price to pay for a car that makes you look and feel a million dollars.
Winner Range Rover Evoque Pure eD4 ★★★★★
The Range Rover's remarkable run of success continues. Jaw-dropping looks and a luxurious cabin seduce in the showroom, while the low CO2 emissions and generous kit mean it also makes financial sense. Decent driving dynamics and surprising practicality seal the eD4's victory.
2nd Audi Q3 2.0 TDI S line ★★★★
Ultimately, the less adventurous styling, inside and out, costs the Audi the win. The Q3 is great to drive, very cost-effective to run and beautifully built. Strong refinement adds to its appeal, as does the good-value £25,065 SE version. Yet it's just not as special as the Evoque.
3rd Volvo XC60 D3 ES DRIVe ★★★
If you're looking for a stylish, safe and extremely spacious family car, then the Volvo makes a lot of sense. Yet while the DRIVe is cheaper to run than the four-wheel-drive version, it can't match the efficiency of its rivals here. Cumbersome handling and an overly harsh ride seal its fate.