Used Range Rover Evoque (Mk1, 2011-2018) review
It's stylish, luxurious, well-engineered and still desirable but the Range Rover Evoque's reputation for reliability isn't the best
Verdict
The Range Rover Evoque is the best-selling Land Rover product ever. Its combination of a prestigious badge, high-fashion styling and on-board technology wooed buyers to such an extent that the car that replaced it looks much the same and follows a very similar recipe. 
It's a good used buy today: there's lots of choice, a wide spread of engines and it shouldn't be too hard to find a car specced to your taste. Reliability is a bit of a concern, but find a good example and you'll be amazed how modern your used SUV will still look and feel.
Which one should I buy?
Best Evoque for low costs: eD4 2WD SE manual
Best Evoque for long journeys: TD4 Prestige automatic
Best Evoque for driving fun: SD4 HSE Dynamic automatic
When the Range Rover Evoque arrived in 2011, it was so impressive that it won our coveted Car of the Year award. It was even ranked as our Best Compact SUV the following year, and with more than 500,000 produced within five years of its launch the Evoque was a huge success. With all this in mind, a used model could be a good choice.
When the car was new we praised the ride and handling, its performance, the amount of standard equipment and the interior quality. We weren't so sure about the high price, poor fuel economy and limited practicality. Those things remain true of used models, so be aware of those things before you consider one.
The Evoque was launched when Land Rover was looking to bring more customers into the fold who couldn't afford its more expensive Range Rover Sport. The smaller and more affordable Evoque was the company's answer to this, and it brought the features of that car down to a lower price point. It was a capable off-roader but was focused on road-going buyers who wanted a stylish, comfortable cruiser that could fit the whole family inside and still impress the neighbours.
The Evoque was available in both three and five-door guises. From the outset there were 2.0-litre petrol or 2.2-litre diesel engines, the former as an auto only. Diesel cars came in six-speed manual 150bhp form with front-wheel drive (eD4) or four-wheel drive (TD4); there was also a 190bhp SD4 with four-wheel drive and manual or automatic boxes. At first, the auto was a six-speed unit, but from autumn 2013 it was replaced by a more efficient nine-speed box. A raft of new driver assistance tech made its debut at the same time.
A facelifted Evoque arrived in summer 2015 with more efficient Ingenium-badged engines, extra tech and safety features, plus a tweaked design. A convertible car followed in 2017. Refinement also took a step up, to the extent that when the Evoque is equipped with the nine-speed automatic gearbox, there are few more luxurious used compact SUVs out there.
Each model range has its own selection of trim levels, but the five-door has the widest choice, running from the most basic, SE, up to the lavish Autobiography. The Coupe range starts with SE Tech, but the convertible range is rather more limited, covering just SE Dynamic, HSE Dynamic and HSE Dynamic Lux. 
By far the majority of the Evoque range came with four-wheel drive, but if you are prepared to trade some of that versatility for better fuel economy there is a low-spec version of the five-door or coupe with the 148bhp eD4 diesel engine, a manual gearbox and two-wheel drive. You can tell these versions apart from the other models because the Evoque badge on the rear of the car is blue.
What are the alternatives?
The Evoque has some talented rivals, such as the Audi Q5, which has efficient engines and lots of equipment, but is less distinctive inside and out than the baby Range Rover. All of this also applies to the BMW X2 and X3, which drive well and, as with the Audi, come in five-door form only.
Partnership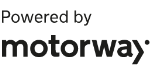 Need to sell your car?
Find your best offer from over 5,000+ dealers. It's that easy.
The Volvo XC60 of the same era was crammed with safety features, while comfort levels are a major plus, too. We'd also look at the Mazda CX-5, which is very good value for money, and could well prove more reliable than the Land Rover.
Range Rover Evoque vs BMW X2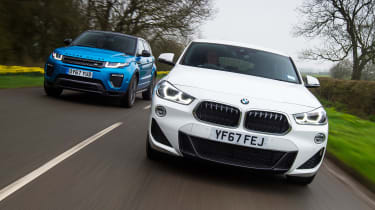 In 2018 we tested the Evoque against its main rival from BMW, the X2. By this point the British car was feeling a bit long-in-the-tooth, even with its then-recent facelift; the X2 was better to drive and more practical, too. Read the full test here...
Range Rover Evoque vs Audi Q3
Another small premium SUV mainstay, the Audi Q3 went up against the pre-facelift Evoque in 2015. The Audi had just had a refresh and so pipped the Evoque to the post thanks to its better engine and sharp driving experience. The Evoque's facelift helped close the gap. Read the full test here...
Range Rover Evoque vs Porsche Macan
The Porsche Macan was a sportier rival to the Evoque when it arrived in 2014 and had a range of more powerful engines. Still, the Evoque stood its ground thanks to its desirable styling, off-road ability and big boot. Read the full test here...
Range Rover Evoque vs MINI Paceman
The MINI Paceman was an obvious rival to the three-door pre-facelift Evoque, with a similar focus on style and desirability. We put the Evoque ahead by a whisker, citing its comfortable ride. Read the full test here...
Range Rover Evoque vs Audi Q3 and Volvo XC60
Our earliest group test featuring the then brand-new Range Rover Evoque was in 2012. We pitted it against the Audi Q3 and Volvo XC60. The Evoque came out on top thanks to its great design, classy interior and generous equipment levels. Strong residuals also helped. Read the full test here...
How much will a used Land Rover Evoque cost?
That Land Rover badge, Range Rover prestige and stylish appearance mean the Evoque has held its value well over the years. Still, there are some good deals to be had if you don't want too many luxuries.
Prices 
According to our experts, the all-new model released in 2019 is predicted to hold on to between around 61 and 71 per cent of its value after three years and 36,000 miles – a higher-than-average figure that certainly seems to be the case with the older version we're focusing on here. 
It's worth focusing your attention on post-facelift cars (after 2017) if you want the best engines and less dated technology. Hunting on our sister site Buyacar, prices start at around £22,000 for a front-drive SE model with a diesel engine and around 40,000 miles on the clock. Prices climb all the way to nigh-on £40,000 for well-specced HSE Dynamic cars with fewer than 20,000 miles – although at this point, you're starting to tread on the toes of the newer and more sophisticated all-new model. When searching the classified it pays to remember that the current model – introduced in late 2018 – can be picked out by its pop-out door handles and Velar-like headlights.
You can check out the latest used prices for the Range Rover Evoque on our sister site Buyacar or value a specific model using our valuation tool.
Fuel economy and emissions 
While there are plenty of bargains to be had with older examples, we think it's worth aiming for an Ingenium-engined Evoque. These engines were introduced along with the 2015 facelift and offer the best blend of economy, performance and claimed emissions. Note that these figures will mostly be quoted on the now-outdated NEDC test regime that's best taken with a pinch of salt.
The least powerful engine in the post-facelift Range Rover Evoque line-up is the front-wheel-drive eD4 model, which has a 148bhp 2.0-litre diesel unit. That model manages an impressive (in SUV terms at least) 65.7 mpg with CO2 emissions of 113g/km in the five-door.
Unless you're a serious off-roader, avoid the four-wheel-drive 178bhp 2.0 diesel because it returns just over 55mpg on the combined cycle and emits 134g/km of CO2. We'd expect fuel economy to be significantly lower in the real world, but selecting the nine-speed gearbox does help matters.
The thirsty 237bhp SI4 turbocharged petrol returns 36.2mpg and emits 199g/km of CO2, which means it should probably be avoided in most cases – it will probably be even worse on fuel than the figures suggest.
The Evoque Convertible is not a particularly cheap car to run; it emits 149g/km of CO2 in diesel form, and an eye-watering 201g/km with the petrol engine. Throw in the relatively small fuel tank and even if the cost of refuelling doesn't bother you, you may well get fed up with the frequency of trips to the petrol station.
Running costs
Evoque services can be fixed (at 16,000 miles or 12 months) or variable (up to 24 months and 21,000 miles). Fixed check-ups alternate between minor and major, while the cambelt has to be replaced at around 108,000 miles; fresh brake fluid is required every three years, while the coolant must be replaced every 10 years.
Prices vary depending on which schedule your car is on, but thankfully Land Rover offers 0% finance on all of its servicing if you need to spread the cost (as of October 2021).
All Evoques came with a three-year, unlimited-mileage warranty when new. An extended warranty was also offered – up to 10 years or 100,000 miles.
What do owners think?
Despite its premium image, Land Rover doesn't have the best reputation for building reliable cars. Electrical gremlins are a common gripe, but hopefully the worst issues will have already been dealt with by a previous owner.
Reliability
While the Evoque has attracted buyers with its sharp style, its long-term appeal leaves something to be desired. It first appeared in our Driver Power survey in 2013 in a lowly 52nd place, but jumped to 36th in 2014. In 2015 it ranked 116th in our top 200, just one place higher in the 2016 rundown, and only 20 places off the bottom in 2017.
A ranking of 55th in our Driver Power 2017 satisfaction survey was respectable, although the car didn't appear in the top 75 in the 2020 survey. 
How practical is it?
In the past, owners have been critical of the car's running costs and practicality, but they praised in-car tech and its comfort and reliability. So as long as you can live with the compromises, the Evoque should stand you in good stead. 
Dimensions, cabin and boot space
The Range Rover Evoque is by no means small, at almost five metres long and two metres high, so it's no surprise that there's plenty of space for passengers.
For that extra bit of practicality, we'd recommend the five-door version but either way, rear visibility is pretty poor. At least the high seating position does give a commanding view of the road ahead and the seats are very comfortable.
It's worth noting that the low-slung roofline on the Evoque means headroom is a bit tight, and shallow side windows create a slightly hemmed-in feel when you sit in the rear. The optional panoramic roof was a pricey option when new, but it lets in lots of much-needed light. Look elsewhere in the cabin and you'll discover plenty of useful storage space and a number of handy cup-holders.
The 420-litre boot is 85 litres smaller than the X1's, but with the rear seats folded flat, that space increases to 1,445 litres. If you go for the three-door Evoque coupe, you get the same 420 litres of boot space with all five seats in place, but with the rear seats down the overall capacity is a little less, at 1,350 litres.
The Convertible takes a major hit on practicality – even when compared with the limited space on offer in the regular three-door model. Indeed, the boot capacity drops from 420 litres to just 251 litres; that's less than most superminis, and the letterbox aperture means that even if an item will fit, it's tricky to get it in there. The rear seats don't fold down at all, so you'll need to find an example in Dynamic Lux trim if you want the prospect of loading longer items, because it comes with a ski hatch in the rear seat.
Equipment and technology
While the Evoque's cabin looks good, it's also pretty well equipped. Heated leather seats come as standard, and two-zone climate control is also included. There were plenty of optional extras available when the car was new, too. A panoramic roof was a pricey option that's worth looking out for on a used example, while a large proportion of Evoques will be fitted with rear privacy glass. Also look out for the heated steering wheel, which was a £200 option when new.
The Convertible's cabin gets the same class and quality, and the roof mechanism is a doddle to use. You simply flick a switch and the mechanism can open up the cabin in just 18 seconds – and at speeds of up to 30mph.
One downside of owning an early Evoque is that you have to use a dated infotainment system, which still lagged behind BMW's iDrive system for functionality towards the end of its life. However, a round of updates for the 2017 model year brought in JLR's InControl Touch and Touch Pro systems, which are much-improved and feature HD graphics with pinch-to-zoom functionality.
The graphics are much better and the system itself is much easier to get along with, because there aren't too many menus to go through to get to the different audio and climate settings. Rival systems are still more complete, but the Evoque's set-up holds up fine today.
Other interesting tech includes a Wi-Fi hotspot, which allows passengers inside the car to connect smartphones and laptops to the internet on the move.
Safety
The Evoque earned a five-star Euro NCAP rating in 2011, albeit with a lower overall percentage than the Audi Q3. However, it has plenty of safety kit, while Land Rover's patented Terrain Response system will help the Evoque to venture further off-road and improve traction in slippery on-road conditions.
What's it like to drive?
The smallest, most youthfully styled Land Rover product was never quite as sporty as it looked, but the Evoque is still great to drive by most measures. It lives up to its Range Rover name by being a decent cruiser, too.
Engines and performance
There's not really a stand-out engine or transmission in the Evoque's back catalogue, although petrols are less fuel-efficient than diesels. The manual is okay, but the auto suits the car well and the nine-speed version is the best. Front-wheel drive is fine for most but the 4x4 system gives it the Land Rover credentials that many want.
If you don't care about outright speed, the entry-level 148bhp 2.0 eD4 diesel engine (which comes exclusively with two-wheel drive) should fit the bill. It'll hit 0-62mph in 10.6 seconds, which is quicker than the old 2.2-litre diesel engine; it's more efficient, too. The new engine is far quieter and a lot more refined, both on a motorway cruise and, especially, around town, which makes it more relaxing to drive.
The 178bhp 2.0 TD4 diesel suits those after more power and can hit 0-62mph in 8.5 seconds, but it's slightly more expensive to run. Meanwhile, the range-topping SD4 diesel has two turbochargers and uses a 'series-sequential boosting' system, with the smaller turbo helping at low revs, and the larger second turbo joining in at higher engine speeds to produce a hefty 237bhp and 500Nm. That's enough to give the car pace not far short of what you'll find in the Porsche Macan S Diesel – a pricier used rival – and once you've got the Evoque up and running, it's the torque that makes the lasting impression. 
The powerful 237bhp 2.0 Si4 turbocharged petrol is also quick (0-60mph takes 7.6s), but it's very thirsty so we'd steer clear of that. What's more, it's only available on Dynamic models of both the three and five-door Evoque, as well as the Evoque Convertible. The drop-top is auto only, but can be specced with the higher-power diesel, too.
Removing the roof has added around 277kg to the Evoque Convertible, taking it to almost two tonnes, and it feels it. The nine-speed auto kicks down more regularly on twistier roads and the extra weight can also be felt in the handling. 
On the road
The Evoque is good to drive and it's pretty relaxing on longer journeys. On the move, refinement is good and the ride is decent over most road surfaces, although the odd bump can upset the bigger 20-inch wheels, sending a nasty jolt up into the cabin.
It helps to be aware that the baby Range Rover's hefty 1,640kg kerb weight can send it running wide if it's pushed too hard in the corners. At least the steering is precise and the car turns in quickly. Adaptive magnetic 'MagneRide' dampers were optional on some models; these help the Evoque stay stable and composed in corners, with body roll kept to a minimum.
The Range Rover Evoque's nine-speed automatic gearbox is smooth, particularly when pulling away from a standstill, and on the motorway it is quick to change up to save as much fuel as possible. However, around town the gearbox can get confused as to what gear to be in, simply because there are so many of them. This can result in slightly jerky progress.
When using the steering wheel-mounted gearshift paddles, it's easy to get stuck between third and fourth gear – but that's all you need on a fast A-road. The six-speed manual is just as precise, but most customers will favour the automatic version, which is far more widely available.
The view ahead from the high-set driving position is excellent, but it's worth noting that visibility is also an issue in the Evoque: the shallow side windows and letterbox-like rear window can make parking a bit tricky – although rear parking sensors are standard on all models.
Land Rover technology such as Hill Descent Control, which gradually eases the car down a steep hill, and Terrain Response, which automatically changes the car's settings for off-road driving, mean the Range Rover Evoque is a very capable off-roader, too.
What should you look out for?
Like most modern Land Rovers of its era, the Range Rover Evoque isn't exactly the last word in reliability and quality. While most are well put together, niggly mechanical and electrical issues can occur.
Common used Range Rover Evoque problems
Windscreen
Many Evoques have a heated windscreen. But if you do a lot of night driving, lights from oncoming traffic can pick out the elements, causing a distraction.
Upholstery
All examples have leather trim, which can get very baggy very quickly, especially on the bases of the front seats. Check the driver's seat first. 
Parcel shelf
If the luggage bay is full, the parcel shelf can rub on the boot surround, wearing away the finish on the latter. A repaint is then necessary to repair the damage.
Suspension
Clonks from the front or rear suspension can be evident when the Evoque is going over bumps. So far, there's no definitive solution to rectify the problem.
Recalls
The original Range Rover Evoque was on sale for the best part of a decade and has been subject to a number of recalls. It's worth checking with your local dealer if you have any doubts about whether your Evoque is overdue remedial work. Remember, this is free of charge if it needs doing. 
The first recall was issued in 2015 and concerned some incorrectly routed wiring that could cause engine issues. Affected cars were built between July and October of 2015 inclusive.
Cars built between March 2015 and April 2016 inclusive were subject to a recall that centred on a potential fuel leak from the top of the engine. Some 37,000 Evoque and Discovery Sport cars were affected.
An increased risk of an accident was identified as cause to recall just 323 Discovery and Evoque models built between March and August 2016 inclusive. This was down to some potentially incorrectly tightened bolts in the front suspension. Two more recalls were issued in 2016: one for a short-circuiting issue in cars built between July and October 2015 inclusive, and another for a non-deploying passenger airbag in some models built between July and October 2016 inclusive. The short-circuiting issue reared itself again between these dates, too.
The next recall came in 2017 and concerned Evoques built over a few days in March that year. An issue with a locking ring in the fuel tank assembly was to blame. Another fuel issue came to light in 2018 concerning cars built from May 2016 to January 2018 inclusive, this time with fuel rail end caps, while the potential for an inaccurate fuel level reading was the subject of a recall in 2019 that affected Evoques built between October 2018 and March 2019 inclusive.
Emissions irregularities were the subject of two recalls for models built between March 2015 and July 2018 inclusive.