MINI Paceman vs Range Rover Evoque
The MINI Paceman goes head-to-head with the Range Rover Evoque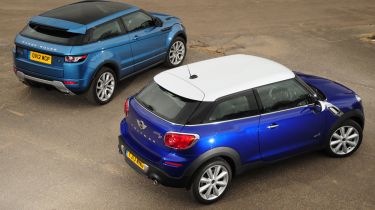 MINI sold more cars in the UK last year than ever before, but the company believes that the new Paceman has the right blend of ingredients for it to achieve even greater success.
The newcomer is based on the Countryman, but mixes crossover practicality with coupe style and MINI character in an attempt to emulate the design-led success of the Range Rover Evoque.
But can the seventh MINI in the range rival the pioneering coupe SUV – crowned Auto Express Car of the Year in 2011 – and offer a cheaper alternative?
The £24,290 Cooper SD ALL4 sits at the top of the model range, and comes with four-wheel drive and a 141bhp 2.0-litre diesel engine.
You'll need an extra £5,905 to step up to the Range Rover, but even then you only get on the bottom rung of the ladder with the front-wheel-drive 147bhp eD4 model.
So which is the better choice? And is the Paceman the best variation on the MINI theme yet?
Verdict
Both the cars in this test display the traits that make their brands so popular. The Evoque mimics the relaxed persona of bigger Range Rovers, while the Paceman displays a touch of the youthful exuberance that's become the trademark of the smaller MINI models.
Yet although the models start from completely different positions, they converge to offer similar amounts of style, desirability and image. The Paceman is the most convincing crossover MINI yet, offering nearly as much practicality as the Countryman, with a far bigger helping of style.
Choose one over the two-wheel-drive Evoque and you can get the versatility and security of four-wheel drive and still save around £5,000 on the price. But the Range Rover is more practical, rides far more comfortably and feels more upmarket than the Paceman, particularly inside.
And while the MINI handles well, it seems a bit cumbersome at low speed. Plus, the gruff 2.0-litre four-cylinder diesel can't match the Evoque for executive smoothness and refinement – although there's little between the two cars when it comes to performance on the road.
However, it's the Evoque that narrowly takes the win in this fashion-conscious encounter. Yes, it's a lot more expensive, but if you specify a MINI to a similar standard, the price gap narrows significantly. And while it has been around for a while now, it still feels like one of the must-have cars of the moment.