Renault Twingo GT vs Volkswagen up! vs Smart ForTwo Brabus
Can the Renault Twingo GT deliver sporty appeal to beat VW up! and Smart ForTwo Brabus rivals?
Renault has a long and illustrious history in small, sporty cars. The 5 Turbo and GT Turbo, all manner of hot Clios and the Renaultsport version of the last Twingo were great fast models.
Now the firm's RS department has turned to the latest Twingo to create another sporty model in the shape of the Twingo GT. This isn't a full-on RS model, though – it's more of an enhanced version of the rear-engined city car with more power. It has the same level of usability to ensure it works just as well as the standard car in town.
But there are a few competitors already offering similar solutions. Volkswagen has turbocharged its up! to offer even more performance without compromising the car's flexibility, while Smart has turned to tuner Brabus to create a hotter version of its ForTwo urban runaround.
The victor here will have to balance the addition of more performance and greater driving enjoyment without sacrificing any practicality or driveability in built-up areas. So which offers the best balance of go-kart like handling, efficiency, usability and cost?
Renault Twingo GT
| | |
| --- | --- |
| Model: | Renault Twingo GT |
| Price: | £14,085 |
| Engine: | 0.9-litre 3cyl turbo, 108bhp |
| 0-60mph | 9.6 seconds |
| Test economy: | 39.6mpg/8.7mpl |
| CO2: | 115g/km |
| Annual road tax: | £140 |
As with the standard Twingo, this GT is only available as a five-door. Renault's history with sporty small cars means this Twingo GT has a lot to live up to, but this is a different concept altogether due to the car's unique rear-engined layout. At £14,085 it's relatively pricey, but is it worth it?
Despite the modifications, the Twingo GT suffers with many of the same problems as the standard car. There's still too much body roll in corners, and the revised engine mapping for this GT model doesn't feel very linear.
Squeeze the throttle in second, and the Twingo climbs on boost as the turbo wakes up, accelerating at a faster rate than you might have expected. However, the remainder of the throttle travel doesn't have quite the same effect – the engine gives more of its performance at the top of the pedal's travel.
However, it's a surprisingly quick little car. The 898cc turbo triple serves up 108bhp and an impressive 170Nm of torque, which given the car only weighs 1,001kg meant the GT accelerated from 0-60mph in 9.6 seconds at the test track.
This was four tenths faster than the VW up! It was four-tenths slower than the Smart, but in-gear between 30-50mph the Twingo matched the ForTwo, taking 3.7 and 5.1 seconds in third and fourth respectively. However, the gearshift isn't as precise as the VW's, with a more indistinct feeling when it comes to slotting a new ratio.
With very short overhangs the GT is keen to turn in, but the light, quick steering, narrow track and tall body promotes a noticeable level of roll. Renault says it's also recalibrated the ESC for a sportier feel, but the Twingo's stability control still feels overly restrictive, masking some of the chassis's natural traits – there's not a great sense that the car is rear-wheel drive, but it keeps it in check on the road.
On standard 17-inch alloys the ride is firm, and the stiffer chassis feels crashy over pocked roads. The GT is bouncy at speed as a result and it thumps over bumps at lower speed in town, too, but it still remains fun to drive.
Testers' notes:"Quick steering and front wheels that turn more than usual thanks to the rear-engined layout give the Twingo a tight turning circle of 8.6 metres, but the Smart is even better."
Volkswagen up!
| | |
| --- | --- |
| Model: | VW up! beats 3dr |
| Price: | £11,490 |
| Engine: | 1.0-litre 3cyl turbo, 89bhp |
| 0-60mph | 10.0 seconds |
| Test economy: | 46.0mpg/10.1mpl |
| CO2: | 108g/km |
| Annual road tax: | £140 |
In sporty three-door beats specification with Volkswagen's 1.0 TSI 90 engine, the up! undercuts both of its rivals – and by quite some margin, costing £11,490. Even the five-door model costs less, at £11,890. However, does the less powerful up! make a convincing sporty city car, or is your money better invested in the Twingo?
Weighing 1kg more than the Twingo and with only 89bhp and 160Nm of torque, it was no surprise that the up! was slower from 0-60mph, taking 10.0 seconds. However, there's more to how this car delivers its performance than flat-out speed.
Its maximum power and torque are produced lower down in the rev range than the Renault, so it's actually easier and more relaxing to drive. While the VW's in-gear times were still slower than its rivals, the 9.9-second sprint through the gears from 30-70mph highlights one of the car's positives.
The five-speed manual has a more mechanical feel than the Renault, and is much nicer to use. The steering shares this precision, which makes the up! feel much sharper to drive.
Together with more grip, the agile chassis actually makes the car feel sportier and more enjoyable to drive than the Twingo, although it's slower in a straight line. The up! rides with plenty of composure and control, and because it's on smaller 15-inch alloy wheels, you don't feel potholes through the structure quite as hard as you do in the rivals here.
It's more absorbent on bad roads, floating over ridges and chunks in the tarmac and filtering out a large proportion of the surface where the Renault responds more violently to the same bumps.
Testers' notes:"Sharp screen graphics and neat ambient lighting at night give the up! an expensive feel, despite being the cheapest here. It highlights the VW's impressive quality."
Smart Brabus ForTwo Brabus
| | |
| --- | --- |
| Model: | Smart ForTwo Brabus Twinamic |
| Price: | £16,585 |
| Engine: | 0.9-litre 3cyl turbo, 108bhp |
| 0-60mph | 9.2 seconds |
| Test economy: | 31.9mpg/7.0mpl |
| CO2: | 102g/km |
| Annual road tax: | £140 |
There's a five-door, four-seat Smart Brabus ForFour to match the Twingo, but like the up! it's the three-door Smart ForTwo Brabus we test here, the sportiest version of the little city car. However, this smaller, two-seat Smart costs an eye-watering £16,585 (although our pictures show a top-spec Brabus Xclusive, which costs £19,755). Given city cars need to be compact, is it a better bet than its rivals?
Its competitors are light, but the Smart weighs even less, at 995kg. With the same 108bhp and 170Nm of torque as the Twingo, but shorter gearing and launch control, courtesy of the six-speed dual-clutch box, the ForTwo Brabus was the fastest on test. It sprinted from 0-60mph in 9.2 seconds, while in-gear performance in fifth and sixth was stronger than its rivals.
However, despite the straight-line speed, the Brabus isn't as fun to drive as the VW. The retuned steering is still very light, and the stiffer suspension combined with a short wheelbase means the Smart doesn't feel as stable as the VW at speed.
It also doesn't ride as well, being knocked off line by bumps that don't upset the Renault or VW as much. It feels much stiffer, although there's a good level of grip on offer. However, it's difficult to sense just how much there is, as the light steering doesn't weight up at all, which means you don't have a great connection with the car. Enter a corner too quickly and it can feel a little unstable. The brittle ride isn't the only black mark against the Brabus when it comes to refinement, either. It's the noisiest on the move, as the road roar and wind whistle around the door seals is very loud. It means the Smart isn't very comfortable on longer journeys.
Around town that small turning circle and easy, swift-shifting gearbox make urban driving particularly simple. However, it's not really any better than its rivals in the city, and it loses out significantly when it comes to comfort out of it.
Testers' notes:"You can personalise the Smart's safety cell and radiator grille with coloured inserts to give it an individual look. The up! doesn't offer the same level of customisation."
Verdict
First place: Volkswagen up!
The up! is the most agile and involving to drive but also offers the most refinement and comfort. It will also be cheaper to buy, outright and on finance, more cost-effective to run, is the most spacious inside and gets a competitive level of kit. In just about every area bar acceleration (where it's still more than adequate) it has its rivals beaten, so it takes a convincing victory here.
Second place: Renault Twingo GT
There's a more exploitable chassis underneath the Twingo GT somewhere, but the set-up still isn't sharp enough to match the VW. Higher emissions also mean it's not as attractive, while the firmer ride counts against it. Even though the punchy engine and manoeuvrability combine to deliver something genuinely fun, poor depreciation sees it finish second.
Third place: Smart ForTwo Brabus
A tight turning circle adds to its character, but the Brabus is simply too expensive to compete. It's not the ForTwo's size that's the problem, as its shrunken dimensions mean it's great in town – plus there's a four-seat model if you want it, but that's even pricier. Despite having strong residuals and offering lots of performance, it still loses a lot and isn't particularly comfortable.
Is it worth waiting for this model?
Suzuki Swift 1.0T SZ5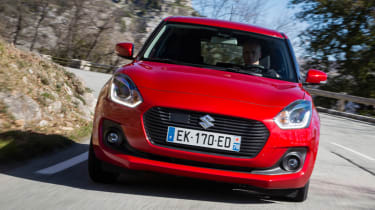 Due: JunePrice: £13,750 (est)Engine: 1.0-litre 3cyl, 109bhp
The next Suzuki Swift offers a similar 264-litre boot while its 109bhp 1.0-litre turbo is on the money for performance. For a similar price to the Twingo you could have a top-spec SZ5 model, which gets sat-nav and auto braking.
Figures
| | | | |
| --- | --- | --- | --- |
| | Volkswagen up! beats 3dr | Renault Twingo GT | Smart ForTwo Coupe Brabus |
| On the road price/total as tested | £11,490/£13,160 | £14,085/£15,200 | £16,585/£16,585 |
| Residual value (after 3yrs/36,000) | £4,650/40.5% | £4,775/33.9% | £6,775/40.9% |
| Depreciation | £6,840 | £9,310 | £9,810 |
| Annual tax liability std/higher rate | £452/£904 | £610/£1,221 | £623/£1,246 |
| Annual fuel cost (12k/20k miles) | £1,397/£2,328 | £1,623/£2,705 | £2,014/£3,357 |
| Ins. group/quote/road tax | 10/£321/£140 | 11/£327/£140 | 11/£362/£140 |
| Cost of 1st/2nd/3rd service | £250 (4yrs/75k miles) | £739 (3yrs/30k miles) | £20pm (3yrs) |
| | | | |
| Length/wheelbase | 3,600/2,407mm | 3,595/2,492mm | 2,740/1,873mm |
| Height/width | 1,504/1,641mm | 1,538/1,660mm | 1,543/1,663mm |
| Engine | 3cyl in-line/999cc | 3cyl in-line/898cc | 3cyl in-line/898cc |
| Peak power/revs | 89/5,000 bhp/rpm | 108/5,750 bhp/rpm | 108/5,750 bhp/rpm |
| Peak torque/revs | 160/1,500 Nm/rpm | 170/2,000 Nm/rpm | 170/2,000 Nm/rpm |
| Transmission | 5-spd man/fwd | 5-spd man/rwd | 6-spd DCT/rwd |
| Fuel tank capacity/spare wheel | 35 litres/inflation kit | 35 litres/inflation kit | 35 litres/inflation kit |
| Boot capacity (seats up/down) | 251/959 litres | 219/980 litres | 260 litres/N/A |
| Kerbweight/payload | 1,002/433kg | 1,001/384kg | 995/200kg |
| Turning circle | 9.8 metres | 8.6 metres | 7.0 metres |
| Basic warranty/recovery | 3yrs/1yr | 4yrs (100,000)/4yrs | 3yrs (unlimited)/3yr |
| Service intervals/UK dealers | Variable/111 | 18k miles (1yr)/158 | 12,500 miles (1yr)/48 |
| Driver Power manufacturer/dealer pos | 24th/28th | 8th/1st | N/A |
| NCAP: Adult/child/ped./assist/stars | 89/80/46/86/5 (2011) | 78/81/68/56/4 (2014) | 82/80/56/56/4 (2014) |
| | | | |
| 0-60/30-70mph | 10.0/9.9 secs | 9.6/9.5 secs | 9.2/9.0 secs |
| 30-50mph in 3rd/4th | 4.3/6.9 secs | 3.7/5.1 secs | 3.7/5.1 secs |
| 50-70mph in 5th/6th | 11.0 secs/N/A | 8.5 secs/N/A | 7.5/9.5 secs |
| Top speed/rpm at 70mph | 114mph/2,400rpm | 113mph/N/A | 102mph/2,800rpm |
| Braking 70-0/60-0/30-0mph | 53.7/33.4/9.7m | 47.9/37.1/10.9m | 45.5/33.5/9.8m |
| Noise outside/idle/30/70mph | 69/53/64/73dB | 69/57/69/76dB | 71/61/73/78dB |
| Auto Express economy/range | 46.0/10.1/354 miles | 39.6/8.7/305 miles | 31.9/7.0/246 miles |
| Govt urban/extra-urban/combined | 46.3/72.4/60.1mpg | 45.6/62.8/54.3mpg | 54.3/68.9/62.8mpg |
| Govt urban/extra-urban/combined | 10.2/15.9/13.2mpl | 10.0/13.8/11.9mpl | 11.9/15.2/13.8mpl |
| Actual/claimed CO2/tax bracket | 142/108g/km/20% | 165/115g/km/22% | 205/102g/km/19% |
| | | | |
| Airbags/Isofix/park sensors/camera | Four/y/£365^/£160 | Four/yes/yes/£600* | Four/y/£1,245+/£1,245+ |
| Auto/stability/cruise control/AEB | No/y/£365^/£375 | No/yes/yes/no | Yes/yes/yes/no |
| Climate ctrl/leather/heated seats | £260/no/£235^^ | Yes/no/£250 | Yes/no/£195 |
| Met paint/xenon lights/keyless go | £515/no/no | £625/no/no | £295/no/no |
| Sat-nav/USB/DAB/Bluetooth | No/yes/yes/yes | £600*/yes/yes/yes | £1,245+/yes/£195/yes |