Driver Power Award 2023: Citroen C4/e-C4
The Citroen C4 and e-C4 are the winners of our 2023 Auto Express Driver Power Award
The Citroen C4 and electric e-C4 rack up an incredible six top-10 category placings in the 2023 Driver Power New Car Survey, then add four more results in the top 20 for a total score that proves easily enough to beat all comers in the UK's most eagerly anticipated satisfaction index.
Casting an eye over the results, the C4's best showing is third for ride and handling – including top spot for ride smoothness – but superb scores across the board make the C4 unbeatable.
Another first place for overall quality helps the Citroen to fourth place in the reliability category, and the company is also able to celebrate fourth places for economy and servicing costs, sixth places for the number and ease of use of safety features, and a trio of seventh places for brake and steering responsiveness, and for driving pleasure.
The C4 also performs admirably in the interior category, with second place for front-seat comfort, fourth for interior quality and fifth for style. On the practicality front, the car is 10th for flexible seating, although only 32nd for boot space. A third place for child-friendly features redresses the balance.
Amidst all the positivity, negatives are scarce. In fact, there are only two places where the C4 ranks in the lower half of the table – a disappointing 59th for touchscreen sensitivity and visibility, and a 68th for visibility from the driver's seat. In other words, it's a hugely worthy award winner.
You'll find all the information on our New Car Awards 2023 winners and the reasons why we chose them on these pages. Just follow the links below to read more…
New Car Awards 2023: the winners
Special edition of Auto Express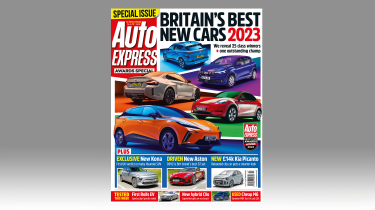 For the full New Car Awards experience, make sure you pick up a copy of our special 2023 New Car Awards collectors' edition of the Auto Express magazine, which is available in shops now.
You can buy individual issues of Auto Express or subscribe for even bigger discounts on the print magazine cover price. You can currently subscribe or download individual issues of our digital edition direct to your desktop, phone or tablet as well.
Stay right up to date with the latest from the world of cars in 2023 and beyond, subscribe to our email newsletter and follow us on social media...