Electric Van of the Year 2023: Volkswagen ID. Buzz Cargo
The Volkswagen ID. Buzz Cargo is the 2023 Auto Express Electric Van of the Year, with the Ford E-Transit and Vauxhall Vivaro Electric commended
The arrival of the Volkswagen ID. Buzz Cargo has injected some much-needed style into the electric van class. Here's a work vehicle that, with its striking Type 2-inspired looks, turns heads wherever it goes, which could be ideal if you want your company to stand out from the crowd.
However, this is an electric van that backs up its style with plenty of substance. Under the skin, it uses the same platform and running gear as Volkswagen's ID.3 and ID.4 EVs, and thanks to its size, the ID. Buzz Cargo packs the largest 77kWh battery that VW has to offer. That means a driving range of 260 miles is easily achievable, making this a long-distance champ in the electric van market.
Sure, a cargo capacity of 3.9 cubic metres means the ID. Buzz Cargo doesn't offer the largest cargo bay for its size, but a one-tonne payload is offered, and the car-like dynamics make up for it.
Our choice
VW ID. Buzz Cargo Commerce Plus £44,610 (ex. VAT)
There are just two trim options on offer, but Commerce Plus justifies its extra cost with sharper looks and a suite of standard-fit safety and driver-assistance tech. Even better, strong residuals mean that monthly finance rates are very competitive when compared with electric van rivals.
Commended
Ford E-Transit
In the large electric van class, nothing comes close to last year's electric van winner. The E-Transit delivers all of the space offered by the standard model, while a 68kWh battery provides nearly 200 miles of range. The Pro Power Onboard system means the drive battery can be used as a power source for tools, too.
Vauxhall Vivaro Electric
If your priority is practicality over head-turning looks, then the Vivaro Electric (or similar options from Citroen, Fiat, Peugeot and Toyota) is still a top choice. A 75kWh battery offers a WLTP range of up to 205 miles, while car-like manners mean that this is a model that's relaxing to drive.
You'll find all the information on our New Car Awards 2023 winners and the reasons why we chose them on these pages. Just follow the links below to read more…
New Car Awards 2023: the winners
Special edition of Auto Express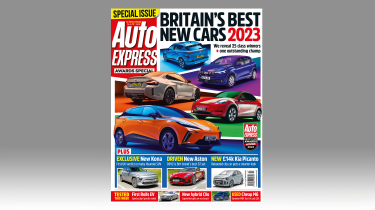 For the full New Car Awards experience, make sure you pick up a copy of our special 2023 New Car Awards collectors' edition of the Auto Express magazine, which is available in shops now.
You can buy individual issues of Auto Express or subscribe for even bigger discounts on the print magazine cover price. You can currently subscribe or download individual issues of our digital edition direct to your desktop, phone or tablet as well.
Stay right up to date with the latest from the world of cars in 2023 and beyond, subscribe to our email newsletter and follow us on social media...