New Car Awards 2023: the winners
Once again the Auto Express New Car Awards picks the best new cars you can buy in the UK today...
After a couple of tough years for the car industry, 2023 is showing rays of sunlight breaking through that suggest things are getting back to normal in the automotive world. Supply issues are fizzling out, waiting lists are down and manufacturers have cars to sell again. Rivals brands are jockeying for position, pushing to offer the most tempting deals and competing for your car buying cash. It's just the way we like it.
While the industry is recovering, however, many UK buyers are tightening their belts, so when it comes to new cars, affordability and low running costs are more important than ever.
Our 2023 New Car Awards reflect that, but it doesn't mean that cheap cars get an easy pass. As in past years, our category winners need to be the best across the board. There was a huge amount of talent on show this year, and our expert judges worked until the 11th hour to decide upon a very worthy 2023 Car of the Year winner.
As always with the Auto Express New Car Awards, our hugely experienced road test team chose the categories based on the kind of cars that the public are buying, then put their heads together to settle on the very best car to buy in each class. If our 2022 winner hasn't been surpassed by a new model arriving on the scene, it wins again. It all means that the New Car Awards give car buyers the perfect snapshot of the car market today and the very best models to spend their money on.
As usual, we have a winner and two commended cars in each category. With each of the winners, we also select the exact version, engine option and trim level that we recommend within the model range.
You'll find all the information on our New Car Awards 2023 winners and the reasons why we chose them on these pages. Just follow the links below to read more…
New Car Awards 2023: the winners
Special edition of Auto Express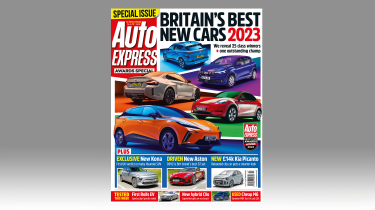 For the full New Car Awards experience, make sure you pick up a copy of our special 2023 New Car Awards collectors' edition of the Auto Express magazine, which is available in shops now.
You can buy individual issues of Auto Express or subscribe for even bigger discounts on the print magazine cover price. You can currently subscribe or download individual issues of our digital edition direct to your desktop, phone or tablet as well.
Stay right up to date with the latest from the world of cars in 2023 and beyond, subscribe to our email newsletter and follow us on social media...