High-power AWD Cupra Born hot hatch "can be expected"
Cupra R&D boss Dr Werner Tietz hints at higher power version of firm's new Born electric hatchback in the future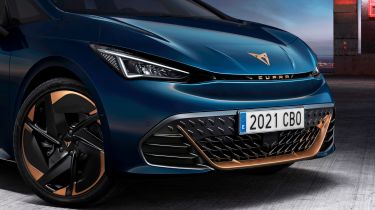 Cupra could release a more powerful version of its newly revealed Born electric hatchback in the future, according to the brand's executive vice president for research and development, Dr Werner Tietz.
Following the reveal of the Volkswagen ID.X electric hot hatch concept by VW CEO Ralf Brandstätter last week, and speaking to Auto Express ahead of the unveiling of Cupra's first EV, Tietz said Cupra is "interested in" developing a more powerful all-wheel-drive version of the Born.
Tietz hinted that an experimental prototype may already be in existence, saying: "For sure, this kind of version drives nicely, maybe it's something for the future." He added that "over the lifespan of the car you can expect that we will think about different drivetrains or different power levels at least ... higher power versions can be expected some day."
However, this may be a while off yet, according to the Cupra executive: "It's not something that is currently visible, as we don't have the high demand for that and it's a lot of investment for this kind of full application for the car."
Volkswagen is exploring similar high-power applications of its ID.3 EV with the ID.X concept, which could raise political issues within the VW Group as to which brand would release an all-wheel drive electric hot hatch first.
Tietz explained, though, that Cupra has already engineered the Born to live up to the brand's sporty image, and that we can expect it to drive quite differently from the VW ID.3.
"We have invested a lot of time in tuning the chassis, steering and powertrain. We offer the car with DCC [Dynamic Chassis Control] in combination with ESC Sport and a 15mm lower ride height in the front, and 10mm at the rear.
"The DCC application is unique. We spent a lot of time on different surfaces to fine-tune that, and we combined it with progressive steering for a dynamic feel to the handling of the car. If you compare it on a track, the basis is a more conventional set-up for every-day use, and our car is a more sporty set-up for people who like better response and more agile behaviour of the car."
Cupra will stick to electrification at the higher end of the model line-up, with the brand set to put its Tavascan electric SUV into production in 2024, while sister brand SEAT will electrify from the lower end of the scale, according to Tietz.
"For SEAT you must understand that we have invested a lot of money over the last years, with the new Leon, Arona, Ibiza and Tarraco plug-in hybrid - for now it's time to invest in Cupra. The Cupra promise for the future is to invest heavily into electrification.
"If you look into SEAT we have invested in electrification but coming from the low end. We have just launched the kick scooters, now we have the e-scooters running in Barcelona which will be offered across Europe; this is where we step into electromobility from the lower side, and the next steps on the SEAT side are planned as well, so this will close the electrification gap from the lower side, while Cupra is attacking that from the top."
Tietz touched on another small EV that will arrive in 2025, although it has yet to be decided whether this will be launched as a SEAT or a Cupra. However, the R&D boss did outline that a small battery-electric vehicle like this would need to have a 400km (248 miles) range to meet customer expectations for this class.
"I would think that 400km is an appropriate range that you should achieve with such a car - maybe even more. I am quite convinced that battery technology will continue to develop, so currently I think 400km should not be a problem."
What are the best electric cars on sale right now? Click here for our top 10...