How to name a car: car name generation tips uncovered
Car makers can spend huge amounts of time and money on a name for a new car. We talk to the team at Dacia that came up with 'Jogger' to see how the process works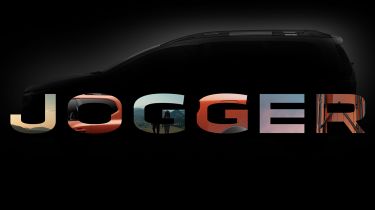 There's no secret formula when it comes to producing a successful car. Much to the frustration of manufacturers, years of research and development offer no guarantee that a vehicle will prove a hit with buyers.
Equally daunting – indeed, some might argue even more so – is the challenge of coming up with an appropriate name that can lodge itself in the public consciousness. Increasingly, it is a challenge that makers appear to be shying away from, as the rise in popularity of simple but safe – and whisper it, rather dull – alphanumeric names demonstrates.
That's a shame, because some of history's more desirable cars undoubtedly had their reputations enhanced by evocative names – consider, for example, the allure of the Mustang, Capri or Stratos. These timeless badges are infinitely more appealing than an A/B/C alphabet soup combined with a number indicating where the model sits in the range.
Thankfully, there are still some manufacturers prepared to embrace creativity and give their vehicles proper, good old-fashioned names. But how do they choose what to pick? How long does the process take? And who, ultimately, makes the decision? To find out more, we spoke to Dacia, which, with its new affordable seven-seater, has not only launched one of 2022's most interesting new cars, but also given it a memorable name that, somehow, works just perfectly – the Jogger.
The media materials released at the time of the Jogger's unveiling hammered home the relevance of the moniker, proclaiming: "With a name that evokes sport, the great outdoors and positive energy, the Dacia Jogger reflects robustness and versatility of use." While all that unquestionably makes sense, we were keen to know more about the process that delivered such a compelling name, so we met up with Andreea Culcea, the company's Brand Strategy and Naming Director.
Andreea was quick to tell us that Dacia, and its parent company Renault, preferred proper names rather than alphanumeric labels for a very important reason. "It is a good way to bring the brand values and car's personality to life," she explained. This was particularly key for Dacia as it enters something of a new era.
She continued: "When we built our new brand platform, we thought about a new naming strategy, and there are three simple, clear principles. Firstly, we want to keep our iconic names like Logan, Sandero and Duster on the new generations of these cars.
"Secondly, for the new cars, we wanted names that are very simple, very easy to understand and that can fit our Dacia personality. That means authentic, down to earth and with a cool and witty tonality.
"And finally, the third principle is to find more of a consistency in the line-up. That means we will have shorter names for smaller cars [as seen in the new Dacia Spring EV, currently not sold in the UK], and then maybe two or three-syllable words for SUVs or family cars."
Guidelines are obviously essential when tasked with coming up with a suitable name, but so too is the necessity to stick to a strict timeframe, plus a comprehensive brief on the key attributes of the vehicle.
Partnership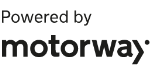 Need to sell your car?
Find your best offer from over 5,000+ dealers. It's that easy.
Andreea went on: "The name must be validated one year before the start of sales, because at that moment all the industrial tools are frozen. Working back from this, we know that we require one year to 18 months, so it's a long process. That means we start more than two years before the car is on the market, which is also the moment when the concept of the car is determined.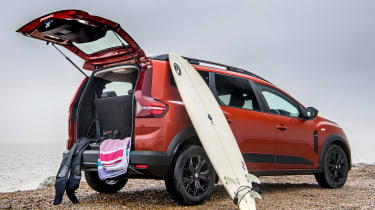 "That ensures we can have a clear brief from the product team and the design team," she told us. "It's important that we make the product story ours and know exactly what role the car will fill in the range."
The seven-seater occupies very specific territory. It's an all-new vehicle joining the line-up, and it was created to attract new customers to Dacia, represent the brand's fresh identity and direction, and convey an attractive blend of practicality and dynamism. Andreea's team had to take all this into account in their work.
Generally, there are three routes to finding a name. The first, borrowing one from the past or taking one in current usage, wasn't considered in this case because the seven-seater had to represent the new identity.
The second is to engage an external agency to formulate a list of suggestions. And lastly, a maker will come up with its own ideas, often ploughing through its extensive database of names that have previously been trademarked for exactly this eventuality. Andreea said: "Our trademark base comprises thousands and thousands of names, so we don't know when and where exactly they have come from. But we have some names that we thought were good solutions during past [naming] processes, so we had registered them."
From the agency's longlist (close to 50 names can be submitted) and the preferred choices from the database, a shortlist is finalised over several rounds of internal debate between members of Andreea's unit and the product and design teams, before a top three or five are decided on. But what makes the cut isn't down to personal preference.
"One of the pitfalls is maybe to become too subjective and to judge names you like or dislike," she said. "The most important part of the job for me and my team is to constantly remember that a name is about meaning.
"In addition, a lot of tests are done – we call them crash tests. These are linguistic tests to make sure the names can be pronounced in all countries and that culturally there are not negative evocations," she said. There have been some rather unfortunate instances of car names in the past that have translated very badly, as our panel, right, demonstrates. "We also do legal checks to make sure the names are available," she added. "This all takes time."
In the case of the seven-seater, a top three was finalised – Andreea declined to tell us what the other two names were, because they have been kept for potential use in the future – and presented to Dacia's sales and marketing manager, and product executive manager. They agreed that Jogger, which had been plucked from the firm's database, was the top option.
Job done? Nope. There was more testing to be done – specifically on the most important people, potential customers. For Jogger, 300 people were selected in each of three key markets – France, Germany and Spain – and quizzed confidentially online on a number of elements. "Is it easy to pronounce or not? Is it easy to retain and keep in mind? What is the first word that comes to mind when I say Jogger? Does it evoke the characteristics of the brand?" explained Andreea.
Given that the feedback on Jogger was uniformly positive, it was then – and only then – that the name was formally presented to Dacia CEO Denis Le Vot, before going to Renault Group CEO, Luca de Meo, for final validation. Of course, approval is normally a formality, but there's always the slight chance a name will be rejected – meaning more time has to be built in to allow a search for a replacement. Thankfully, with the Jogger, that wasn't necessary.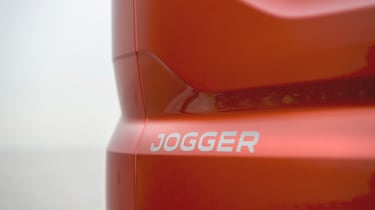 How much does naming a car cost? While some companies invest very heavily, Andreea says this wasn't the case with Jogger. "We are Dacia, so we have a very efficient model," she pointed out. "We are working with just one agency for the creative part, so the only budget is for this and the tests. You can imagine it is not big."
Whatever has been invested has clearly been money well spent. The name has been extremely well received across the board – from fans on social media at the time of the reveal, to media creatives who have devised ad campaigns for it, to the customers lining up to buy it.
For Andreea, it's a job well done, although she is realistic enough to accept her role is not the defining one in the Jogger's success. "My mission is to produce a name that positions the car. But a name can't save a vehicle that is not good!" she smiled. "Jogger, though, is a good-thinking name for a good-thinking car."
Not every name is as successful as Jogger
Mitsubishi Pajero
The ever-present risk of choosing a name that doesn't translate well in all languages was amply demonstrated by Mitsubishi's SUV. Pajero is a term used in Spanish-speaking countries to describe those who regularly pleasure themselves. Little wonder the car was ultimately marketed as Montero in Latin America.
Toyota Isis
Sometimes fate can play car makers a cruel hand. The seven-seat Japanese-market Toyota Isis MPV offended no one when it was launched in 2004. But by 2015, the notorious Islamic State terror group had come to prominence, and ISIS had very different connotations globally. The Isis was discontinued in December 2017.
Honda Fit
Ever wondered why the Jazz is called the Jazz, and not the Fit, as it is in Japan and was in the US? Prior to launch in 2001, the original intention was to call the car Fitta – until it was discovered that Fitta was a vulgar word used to describe female genitalia in Scandinavia. Fit was deemed to be too close to Fitta, so Jazz was the preferred option in Europe – and the car's marketing campaign was hurriedly replanned.
What an agency can offer
While Jogger was a name that came from within Dacia, creative agencies are often the chosen route for finding suitable options.
Arguably the most successful agency in the world is Lexicon Branding, based in Sausalito, California. Over the years the firm has been responsible for such recognisable automotive names as Forester and Outback for Subaru, and more recently Lucid, a new player on the EV scene. Outside of cars, Lexicon created the BlackBerry, Sonos and Febreze brand names.
The agency's founder and CEO is David Placek, who explained: "Naming cars is more complex than naming most other products. There is more emotional value in naming a car than, for example, a new bottle of water or detergent. A car is a self-expressive thing, but it is also a piece of equipment that needs to be safe, comfortable and effective. The challenge is balancing the emotional aspect with that."
The effort that goes into finding a suitable name is extensive. Lexicon has 98 linguists in 60 countries and uses software that judges potential names based on elements such as hardness, softness, speed quality, brightness, darkness – "the fundamentals of sound," as David put it.
He continued: "It's not rocket science, but I think there is a fair amount of science that can be applied – and for us that is linguistic principles and cognitive science."
Once a commission is received, Lexicon forms two or three two-person teams to come up with ideas. They are briefed slightly differently to cover every possible angle. The process will deliver up to 40 names, which will be whittled down to 10-15, and generally takes two months, with fees starting at US $75,000 (£70,000).
Why is a name so important? "Simple," said David. "The design might change, the car itself will change, the narrative will change, but the name will stay. As it does, it become more lodged in people's memory."
And he thinks Dacia has picked a winner in Jogger. "I like it. It's friendly, it's active with the "er" – it's fairly unique in the car marketplace. They have taken a name that has a real physical theme – movement, energy etc – and put it on a vehicle. Names like that are not traditional. They've taken a risk, but I admire that. Safe names are not effective names."
What makes the perfect car colour? Click here to find out...