Laufenn S Fit EQ+ review
The Laufenn S Fit EQ+ transfers little noise to the cabin and is the second cheapest on test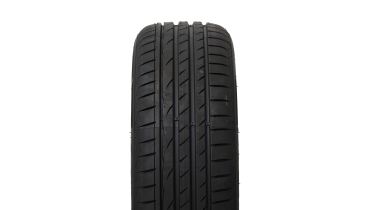 In association with

Another new tyre, this time from the Hankook stable, where Laufenn is an associate brand. It's not well known in the UK – even the experienced tyre professionals at MIRA hadn't heard of it – but this performance suggests there's a fair bit of Hankook's original-equipment development experience in the S Fit EQ+. 
The stand-out result has to be that win in dry braking, which it just snatched from Maxxis. However, that didn't translate into a similar performance on the handling track where it was eighth, albeit just half a second off the best. It felt soft in the turns and lacked sharpness beyond the initial turn-in, requiring plenty of lock through the longer turns. 
It was similarly restricted by a lack of front-end grip in the wet. That made for a reassuringly stable rear – something several rivals failed to achieve – but it needed patience on the throttle to keep the line. It also spun up easily out of the tighter turns on lock. The end result meant it was about a second off the ultimate pace. 
For those who prefer comfort over dynamics it was one of the best in the cabin noise test, although there is a price to pay given that its fuel consumption was around four per cent off the best.
Blackcircles.com says...
"At the time of writing, we do not currently hold stock of this tyre, meaning we are unable to provide any insight into the tyre's popularity or performance with our customers."
Figures
| | | |
| --- | --- | --- |
| Laufenn S Fit EQ+ |   |   |
| Overall  | 99.10% | 6th |
| Price | £68.50 |   |
| Wet handling  | 98.50% | 8th |
| Wet braking  | 99.10% | 3rd |
| Straight aquaplaning | 95.50% | 8th |
| Curved aquaplaning | 87.90% | 7th |
| Dry handling | 99% | =8th |
| Dry braking  | 100% | 1st |
| Rolling resistance  | 82% | 6th |
| Cabin noise  | 99.60% | 2nd |