"Formula 1 is back, but is Ken Block the future of motorsport?"
Check out Ken Block's online videos if the F1 gets boring, says editor-in-chief Steve Fowler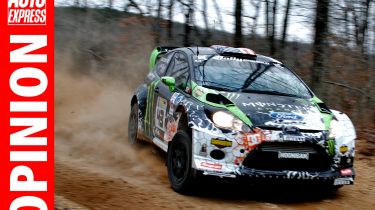 Ever seen Ken Block on video? Check out the video below and enjoy him hooning (he drives for Hoonigan Racing!) around Ford's Cologne factory in a prototype Ford Focus RS. His videos are compelling viewing, with one boasting over 22 million views. No wonder Ford is happy for him to throw its cars around on screen.
But what does Ken Block have to do with the new season of Formula 1? At last week's Geneva Motor Show, I met up with Ford folk and chatted to Raj Nair, the company's chief technical officer and the man in charge of product development.
I asked him why, in a year when Ford is being noisy on the fast car front (Ford GT, Focus RS, Mustang...), it's so quiet on the motorsport front?
"Motorsport is still important to us," he told me. "Our heritage is founded on a race Henry Ford won. We look for an engagement where we can see a return. Ken Block is an example of a motorsport spectacle – he's given us tremendous exposure. But some series become more about the driver than the maker. In F1 it's more about Lewis [Hamilton] vs Nico [Rosberg], than Mercedes vs Ferrari."
Ford still plays a decent part in motorsport, from Formula Ford to the increasingly popular Block-style Rallycross. And here's hoping we see a return to Le Mans for Ford with the GT.
I'm also hoping for a blockbuster Formula 1 season, although I'm going to play it safe this year after tipping Jenson Button to win last year.
I can't look past Lewis Hamilton and a third world title, although I hope the Williams team gets to the top step at least once, and I'd love to see a Jenson win by the end of the year. Most of all, I hope this year's racing is entertaining – although if I get a bit bored mid-race, there's always YouTube and a quick fix of Ken Block.
Who are you rooting for this year? Let us know below...