Ford Fiesta Black Edition review
New 1.0-litre EcoBoost Ford Fiesta Red and Black Edition models get ST look with no compromise on comfort
The Ford Fiesta Red and Black Editions slot neatly between the Zetec S EcoBoost 125 and the extreme ST in the Fiesta line-up. Whichever you pick, you'll get a car that's fun to drive but usable every day. This Black is refined and comfortable, where the ST is firm and noisy. The fact that you can save some cash in the first place and reduce filling station stops is a bonus.
Is the Fiesta ST a little too extreme for you? Well, Ford may have the perfect solution with new Ford Fiesta Red and Black Edition models. As well as a funky red or black colour scheme, they offer sports suspension and 138bhp. But what's most impressive about that figure is that it comes from a 1.0-litre engine.
It's the same three-cylinder EcoBoost as found in lesser Fiesta models, where it produces either 123bhp or 99bhp.
Yet here it has a definite performance focus, combined with shorter gearing for better acceleration. As a result it will launch the Fiesta from 0-62mph in nine seconds flat, while claiming 63mpg economy and emitting just 104g/km of CO2. For comparison, the 99bhp version of this engine claims 65.7mpg and 99g/km.
This engine is impressive in every car it's been in so far, and the Black is no different. Keep it above about 2,000rpm and there's a surge of acceleration when you floor the throttle. Considering its meagre capacity, it's a very impressive achievement. It's missing the deep-throated growl of the ST, but it's got that classic three-cylinder thrum while accelerating, before becoming inaudible at a cruise. This is definitely a more refined and relaxing car than the ST.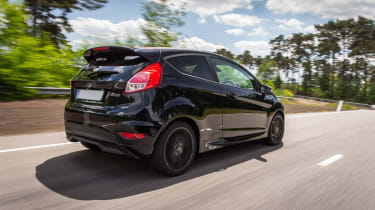 Plus, the only car that comes close to matching its performance figures is the Polo BlueGT, which delivers 138bhp from its 1.4 TSI ACT engine. Cylinder deactivation tech means the Polo isn't too far behind on fuel economy, either, boasting 61.4mpg and 107g/km.
And just like the VW, Ford has fitted the Black Edition with sportier suspension than the standard models. The Black's springs are lowered by 10mm and are 12 per cent stiffer at the front and six per cent stiffer at the rear. Those aren't drastic changes and thankfully it means the Fiesta still rides well.
The big 16-inch alloys do cause a bit of a thump every time you hit a pothole or a rough patch of road, but the car still flows nicely over humps and hollows in the road. Compared with the super-stiff set-up of the Fiesta ST, the Black Edition seems like absolute luxury.
Newly tuned steering and the firmer suspension play their part in sharpening up the handling. Nearly every Fiesta is great to drive, but this one has that extra edge – it feels quicker to turn in and more eager to change direction. While it's not as ultimately exploitable as the ST, there's still plenty of fun to be had.You even get sporty styling like the ST, with this Black model set apart by red highlights in the grille, mirrors and roof.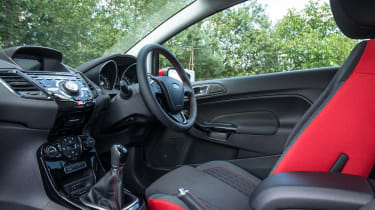 The Red version gets red paint, with black mirrors and a black roof, but without the highlights in the grille that you see here. Inside, both cars feature red stitching on the steering wheel, red seat trim and sports pedals. These subtle changes help make the Black and Red Editions feel a bit more special than a standard Fiesta.
So you get all the sporty styling and 90 per cent of the handling and performance of the ST, with a ride that's comfortable to live with every day. At around £16,000, the Black and Red Editions are set to be about £1,000 cheaper than the ST and a good deal less than the £17,695 Polo BlueGT.
Plus, if you drive carefully, you should hit 50mpg, while road tax is free for the first 12 months and £20 a year after that. These could just be the most rounded versions of Britain's best-selling car yet.