Ford Tourneo vs Volkswagen Caravelle
Carrying lots of passengers is easier than ever with the new Tourneo, says Ford. We test it against the VW Caravelle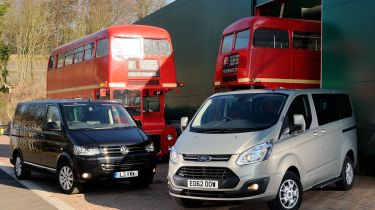 Family buses play a vital role for buyers who need more cabin space than the latest seven-seat MPVs and SUVs can provide. Ford has just introduced its new Tourneo to this market – but while the brand has plenty of expertise with commercial vehicles, we wanted to find out if this car is more than just a Transit van with extra windows.
So we pitted a top-spec Limited, with the most powerful engine, against our current class leader: the VW Caravelle. Ford says the Tourneo is safer and more practical than ever and, with the latest looks and tech, it stands a good chance of success.
But the whole Caravelle line-up has been revised since we last tested it, and this is our first chance to try the new bi-turbo TDI engine paired with a DSG automatic box. So which of these models sits on the top deck in the class?
Verdict
When even the iconic red London bus undergoes a styling revolution, you know that things are starting to change in the world of mass transport. The new Ford Tourneo is by no means perfect, but with the ability to carry up to nine people and a truly vast amount of luggage space, it redefines the class.
The fact that it combines this huge interior space with respectable CO2 emissions and decent driving dynamics is a credit to Ford's chassis engineers.
True, the engine feels sluggish and workmanlike compared to the smoother VW's, but its performance will be more than adequate for most buyers, and there is just about enough torque available on this flagship version to haul even the heaviest load.
A generous helping of standard equipment brightens the utilitarian cabin, while the attractive price and low running costs will make this model popular with private and fleet buyers alike.
By contrast, the Caravelle is thirsty and expensive to buy. Plus, despite its smooth delivery and relaxed cruising ability, the bone-shaking ride at low speeds and unresponsive steering make it feel unwieldy.
The interior still has the mark of quality for which VW is famous, but the limited standard equipment and outdated seating system make it a much less practical family holdall than the Ford. A replacement can't come soon enough.