Ford Tourneo Custom Plug-In Hybrid announced for 2019
Ford has revealed an eight-seat plug-in hybrid minibus with a claimed zero emissions range of 31 miles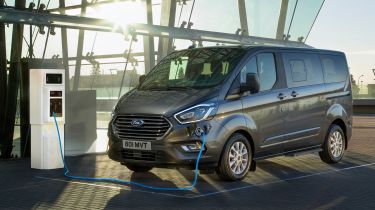 Ford has announced a new plug-in hybrid version of its Tourneo Custom minibus. It features an electric motor mated to a 1.0-litre three-cylinder EcoBoost petrol engine serving as a charging source, effectively making the minibus a range extender. It's due to enter the European market in late 2019.
Unlike a traditional plug-in hybrid, such as the Toyota Prius, the Tourneo Custom PHEV's electric motor is its sole means of propulsion and drives the front axle. The 1.0-litre EcoBoost petrol engine is not connected physically to the front wheels via a gearbox – its only job is to recharge the 13.6kWh battery pack which supplies the electric motor.
• Best MPVs and people carriers
The petrol range extender works alongside an energy recuperation system to deliver a claimed total range of 310 miles. Four selectable EV modes allow the driver to choose how and when the battery charge should be used, with the user being able to prioritise the use of stored battery energy or energy generated by the petrol range extender. Without the engine running, the Tourneo Custom PHEV is capable of 31 miles on the battery only.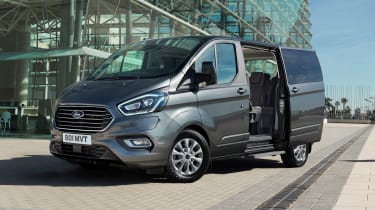 Drivers can also choose the severity of the Tourneo Custom PHEV's regenerative braking system by selecting either 'Drive' or 'Low' on the gear selector. The latter setting increases the amount of energy recovered under deceleration and automatically illuminates the brake lights to warn other road users.
Like any pure-electric vehicle, the Ford Tourneo Custom PHEV can also be charged using a domestic 240-volt 10-amp socket, or a commercial electric car charger, achieving a full charge in five and a half and three hours respectively.
Inside, Ford has reconfigured the Tourneo Custom's digital gauge cluster, replacing its standard rev counter with a power/charge gauge. It has also removed the engine coolant temperature gauge, added a smaller dial which indicates the battery's state of charge and added a graphic which displays 'distance-to-empty' for both the battery and range extender.
Available in Titanium trim, the Tourneo Custom comes as standard with an integrated WiFi hotspot, voice activation, active park assist and an eight-inch infotainment system with support for Apple CarPlay and Android Auto.
Ford has also announced that it will provide an electrified option for every model in its range, offering either mild-hybrid, PHEV or battery electric versions of everything from the Fiesta to the Transit.
What are your thoughts on the new Ford Tourneo Custom PHEV? Let us know in the comments section below…