British-built Honda Civic Type R to be exported to Japan
The Swindon-built Honda Civic Type R hot hatch will be sold in Honda's home market from this autumn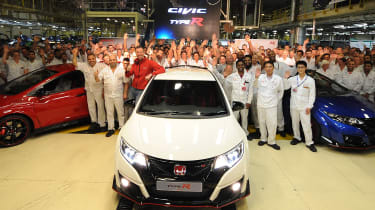 Honda has announced that its new Civic Type R hot hatch will be exported to Japan with sales in Honda's home market beginning as early as this autumn. 
The news is another significant boost for Honda's UK manufacturing plant in Swindon which is already set to receive £200 million in investment as it becomes the global production hub for the next generation Honda Civic 5-door. 
The news of plans to export the Civic Type R to Japan came right from the top with Honda's new CEO Takahiro Hachigo including the announcement in his inaugural speech early this morning. The 167mph hot hatch is the flagship performance model in the Civic line-up and Honda's Swindon manufacturing facility is the only production base for it in the world. Series production of the Type R started last week as the Swindon plant's 3,000 employees began the process of fulfilling the orders on what is reportedly a growing waiting list for the hot Civic.  
Reacting to the announcement, Philip Ross, Senior Vice President for Honda Motor Europe, said; "we're delighted that the European Civic Type R will be sold to customers in Honda's home country of Japan. Customers are really excited about this car and we're developing a significant order bank here in Europe. Exporting the car to Japan will only serve to increase demand further, which is great news!"
VIDEO: Honda Civic Type R vs rivals
We've tested the new Honda Civc Type R alongside its key rivals. Watch the video below to see how it compares...
Read the in-depth review of the Honda Civic Type R here...