New 2018 Honda Insight Prototype revealed ahead of Detroit debut
Honda's third-generation Insight arrives next summer and will be previewed at Detroit in January, but it won't come to the UK
Honda has revealed images of a new prototype Insight ahead of the North American International Auto Show in Detroit next month, which will hit showrooms as the third-generation Insight next summer.
While the first and second generation Insights did make it to the European market, Auto Express understands that this third-gen car won't be offered in the UK. Honda axed the previous Insight from our market early in 2014, alongside the CR-Z Hybrid Coupe.
• Detroit Motor Show preview 2018
The images reveal that Honda has significantly changed the shape of the Insight. It's now a rakish saloon, with one or two tenth-generation Accord cues up front, contrasting with the round hatchback profile of the old model. It'll still be positioned as a five-seat saloon sitting above the Civic on the US market, however. Sketches of the cabin reveal a dashboard layout similar to that of the Civic's.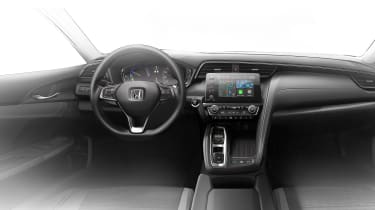 Little else has been said, but the new Insight will make use of Honda's latest two-motor hybrid system, also known as Intelligent Multi Mode Drive (i-MMD). The exact composition of the i-MMD drivetrain in the new Insight is unknown, but it's a system we've already seen in the CR-V Hybrid prototype revealed at the Frankfurt Motor Show back in September. We've also driven a prototype Odyssey minivan using the technology.
Though the next Insight won't be a global model, Honda is preparing a global electrification push. Recent show-stealing concepts such as the Urban EV and the Sports EV concept have hinted strongly at the direction the brand is taking, and the firm intends for two-thirds of its global sales to be electrified by 2030.
Is Honda right to leave the Insight out of its UK plans? Let us know your thoughts in the comments...