'Genesis needs the 'Made in Britain' tag to challenge luxury elite'
In order to truly rival Jaguar, Bentley and Rolls-Royce, Hyundai will need that desirable 'Made in Britain' tag, says Mike Rutherford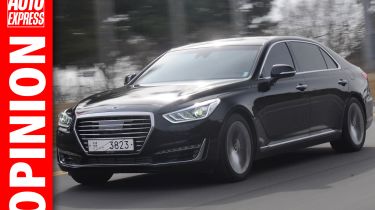 Three long and largely successful decades have passed since UK industry and Margaret Thatcher's Conservative Government jointly invited Japanese makers to build car factories here. Three came. And Honda, Nissan and Toyota are still here.
Fast forward 30 years, and our motor industry establishment and the latest Conservative Government are again leaving the door open for Asian firms to build here. Genesis is the next favourite to set up shop on British soil. Truth is, cars from Korea are generally good, but nowhere near the best or most desirable. And lately there has been an admittance in Seoul that the gap between Chinese and Korean cars is disappearing at a frightening rate (for the Koreans). Also, Korea is now an expensive place to build cars. 
• "You just can't get the staff these days - or so say industry bosses"
These and other recent developments aren't good for Genesis, which must now disassociate itself from the unglamorous and saturated market for cheap to mid-priced Asian vehicles piled high and discounted heavily. My spies in Seoul tell me that as he approaches his 80th birthday, Chairman Chung of Hyundai-Kia-Genesis is finally ready to hand power to son Chung The Young.
The heir apparent understands that Genesis models built in Korea and the US lack the necessary cachet and desirability. And he knows that if they don't possess the increasingly valuable 'made in Great Britain' tag which is afforded to the Jaguars, Land Rovers, Bentleys and Rolls-Royces he admires and (eventually) intends to compete with, then brand Genesis can't even begin to go head-to-head with the best of the best premium/luxury players from England and elsewhere.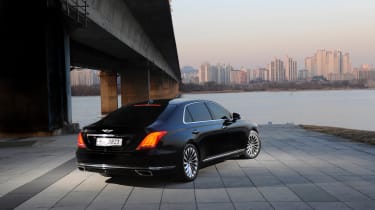 Korea has enjoyed vehicle producing links with the UK before. The Panther Car Company made sports models in Essex, while the Kia Elan was built in nearby Norfolk – on a Lotus production line!
• 'Hyundai is great at selling cars, but has to appeal to the heart, too'
The SMMT can't say whether or not the Korean car industry has been "sniffing around" for a production site in Britain. But the motor and construction industries, Tory Government and several local authorities would love a new Genesis plant here. Failing that, Chung Snr and Chung Jr could easily afford to buy an existing British-based car manufacturing company and factory complex. Stranger things have happened, as India's Ratan Tata proved when he bought Jaguar and Land Rover and transformed them into the world's fastest-growing motor industry group.
Do you think Genesis should build cars in the UK? Leave us a comment below!