Best of British: Jaguar Land Rover's amazing turnaround
We chart the astonishing rise of Jaguar Land Rover in eight meteoric years since Tata took over the helm
As Hollywood blockbusters go, the story of the car company that was on the verge of collapse less than 10 years ago, yet today is one of the automotive world's big success stories, could well break box office records.
Records are something Jaguar Land Rover knows quite a bit about, with 2015 the company's biggest ever year for sales, boosted by a range of award-winning models such as the Jaguar XE and Range Rover Evoque.
• Find out where Jaguar ranked in our Driver Power 2015 results.
But it could have been so different. In 2008 the firm was on its knees before Tata, an Indian company better known for its steel and tea businesses, stepped in and bought British brands Jaguar and Land Rover. It then put in charge Dr Ralf Speth, a German who'd previously worked at BMW.
As part of our Best of British series, Auto Express was given exclusive access to the company to chart its rise in recent years, starting at the Los Angeles Motor Show.
Barely a motor show goes by without a major JLR launch, and Auto Express met up with JLR CEO Dr Speth in Los Angeles as the Evoque Convertible was being launched, before going behind the scenes with another senior executive, Brit Nick Rogers, who's responsible for the engineering of all new Jaguars and Land Rovers.
So what was Dr Speth's view when he first walked through the door of JLR all those years ago? "I knew the company was more or less bankrupt, I knew we only really had one chance, one opportunity. We couldn't choose to do just this or that, we had to be the 'and' company to do everything," he says.
"We had to develop a very special strategy that meant we could simultaneously restructure, update processes, and make us leaner – and prepare us for the future.
"This was done and totally supported by Ratan [Tata] – without Ratan we wouldn't even exist any more. He invested and also gave us the freedom to design our own destiny – that shows how visionary Ratan really is."
That investment has worked for Tata, because JLR has repaid its debt to the company and is now profitable and growing. Over the past five years, it's employed more than 20,000 people (and is the UK's biggest employer of engineering graduates), while Speth expects the company to go past the 40,000 employee mark this year.
Sales have also doubled in the past five years, with a similar return expected by the end of the decade. "We don't want to grow for the sake of growth," says Speth. "We have to grow because that's the best way to be successful.
"It's about creating exciting products that are innovative in terms of things like infotainment systems and electronic chassis systems, so we can deliver something very special – that's more important than the fight for the last figure."
There may be stability now among a growing workforce, with manufacturing plants going strong in Solihull, Castle Bromwich and Wolverhampton in the West Midlands, and Halewood on Merseyside, plus engineering and design facilities in Whitley near Coventry and Gaydon, Warks, but how do workers react to Speth and his team? "Some of our people have seen so many ups and downs, and seen so many different leadership teams, that they're happy for an opportunity to see the company go upwards," he says.
Getting the right staff on board has long been a problem for British industry and Speth is particularly proud of how JLR has solved that problem by engaging with young people and giving them an opportunity to train. "We have nearly 8,900 in education, we train people. We have around 300,000 pupils visit our plants and engineering centres to bring these guys closer to the technology."
The next step is a bespoke campus – the National Automotive Innovation Centre – which Speth describes as "a centre of excellence bringing government, academia, suppliers and manufacturers together".
However, the reaction to JLR's announcement that it will begin to build cars at a new plant in Slovakia, as well as at an existing facility in Austria, hasn't been greeted with universal cheer – but Speth is convinced that people within the organisation are supportive. "The workers know that we can't produce only in the UK," he says. "They know that BMW, Mercedes-Benz and everyone have hundreds of plants and they have the right mix to support and make their own country stronger. For every three to four jobs abroad, you create one in the UK to manage it."
The company's 'Leap 4.5' plan has also come under scrutiny with its drive for greater efficiency, but Speth says that's just good business sense, with JLR trying to be as lean as possible, especially after a downturn that was reported in the second quarter of 2015.
"I'm optimistic that we've come back on track," he says. "We have solidity and we will continue to invest. But if you have grown over five years in the way we have grown, then there's also time to take one step back to see if we've grown in the right way. It's not about cost-cutting, it's about increasing value in the business."
Out on the Los Angeles show floor, Speth is excited by the product he's responsible for as he shows us around the Evoque Convertible. That excitement is also apparent back at home, where we meet JLR engineering boss Nick Rogers at the company's base in Gaydon.
Rogers' office is on the top floor of the engineering centre and he insists we head out on to the terrace adjoining the boardroom to get a view of the size of the operation, which now includes its own test track.
Rogers is a rising star on the Auto Express Brit List and was appointed to his current position last year. His youthful looks belie his fourth decade at the company – he started as an apprentice back in 1984. Over the years he's also worked with Honda, with BMW in Munich ("that was quite a gift and I learnt a lot," he says), and with Ford in Detroit.
"I grew up just outside Oxford and going to university wasn't really an option, so the careers adviser at school told me to apply to British Leyland! I went for the selection tests and interviews, and had always wanted to do electronics and computers, but as I'm red/green colour blind, they wouldn't let me do anything with electrics in case I killed someone! So I ended up as a body engineer."
Rogers first worked on the Maestro and Montego, but rose to fame as chief engineer on the new Range Rover. He lives and breathes the brand, and his car collection includes a Jaguar XK120 that he says has a ride and handling prowess that still imbues Jaguars of today.
Rogers describes 2008 as scary, but at the same time staff had faith in the future cars they were working on. "We were working on the 2010 cars and had such solidarity and unity among us, knowing the technology going into the cars, that we didn't feel that scared."
Although the current Range Rover is a highlight for Rogers, product-wise he tells us: "The biggest highlight is seeing the number of people who thrive off of this place and seeing the passion people have for our products.
"One of the most moving things was when I was out in the US on a Range Rover event when the Range Rover Sport won an award for customer quality.
"It was a little team in the UK, defying everything and being the first SUV to win this award," he says, as he rushes into his office to show us the actual trophy.
In an industry where people are known to move between businesses often, Rogers is a man you can't imagine ever leaving. He says: "Here, you can do things you'd never be allowed to do [elsewhere]. There's almost a bit of defiance – if someone says you can't, it's like 'come on then…'.'"
So what's Rogers' advice to anyone today considering following him into a career in the car business? "It's the best thing you'll ever do – grab it with both hands. We're going to see more change in the next 10 years than in the past 30 – probably more in the next five."
It's clear that the coming years will be filled with plenty of exciting products, and some serious challenges, but there's a very British approach to the way those challenges will be met that fills you with hope that the companies will continue to make what Ralf Speth describes as "cool British products".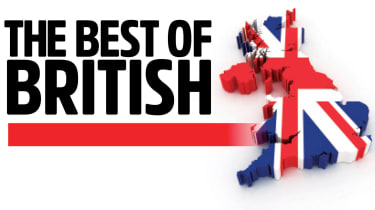 Get all the latest Jaguar and Land Rover news and reviews.