Hyundai i20 vs Citroen C3 vs Nissan Micra
Does the new Hyundai i20 have what it takes to top the supermini class as it meets the Citroen C3 and Nissan Micra?
A wave of all-new superminis has arrived recently, vying for customers in the UK. This is one of the most popular classes of the new car market, so these models are crucial for manufacturers.
However, it's fair to say that the Hyundai i20 didn't set any fires under the competition when it hit dealers in 2014. So the Korean brand has introduced a new model with upgraded connectivity and better safety features.
There's plenty of tough competition for it to face, though. For our group test, we've lined up the Citroen C3 and Nissan Micra, two superminis that are full of tech and safety kit.
The C3 brings something different in this class, with its individual looks and focus on comfort and practicality. In a crowded sector like this, a little personality and a unique selling point can really make a difference.
The latest Micra mixes sharper styling than ever with loads of safety kit, even on low-spec models. Here we'll find out if the revised and upgraded Hyundai can stand tall alongside these two offerings.
Hyundai i20
| | |
| --- | --- |
| Model: | Hyundai i20 1.0 T-GDi 100 SE |
| Price: | £16,395 |
| Engine: | 1.0-litre 3cyl petrol, 99bhp |
| 0-60mph: | 9.7 seconds |
| Test economy: | 47.8mpg/10.5mpl |
| CO2: | 114g/km |
| Annual road tax: | £140 |
The Hyundai i20 has been updated with a subtle new look and some minor changes inside, but how will the latest version fare against two hi-tech rivals? Here we're testing the 1.0 T-GDi SE model, which at £16,395 is the cheapest car of the trio.
With its settled and composed chassis, the i20 is good to drive in a very unspectacular way. The ride is well controlled, especially on this SE model's 15-inch alloys, and although it doesn't deal with potholes as well as the Citroen C3, it's nearly as supple on the motorway. It's smoother and more comfortable than the Micra, particularly on rougher roads.
Control weights in the i20 are good, with well-judged steering and a light but positive gearshift. However, the steering feels exactly the same no matter how much lock is applied, and you get very little feedback about what the front wheels are doing. None of these cars is particularly involving, but the Micra does handle with more agility than the dull i20.
While the steering is devoid of life, the gearbox and engine in the i20 are better. The 1.0-litre three-cylinder turbo petrol is punchier than the Nissan's 0.9-litre unit, and while the C3's motor is stronger still, the Hyundai's is linked to a better transmission and is smoother.
With 99bhp and 172Nm of torque, the i20 sits in between its rivals for power, and that was reflected in its mixed results in our track tests. It accelerated from 50 to 70mph in fifth in 12.0 seconds, splitting the 11.0 and 14.5 seconds it took the C3 and Micra respectively. It did match the Citroen from 0-60mph, with both cars' 9.7-second sprint time beating the Nissan's more sluggish 10.8 seconds.
The Hyundai's engine put in a decent showing, then, but its best feature is refinement. The engine is hushed almost all the time, and only at higher revs will you notice its not-unpleasant thrum. While wind and road noise mean the i20 isn't as quiet on the motorway as its rivals, the South Korean model's engine is barely detectable at speed.
Testers' notes: "The only option you can choose on the Hyundai i20 SE we tested is metallic paint, which costs £550. To get extra kit, you'll need to move up to Premium Nav or Premium SE Nav trim levels."
Citroen C3
| | |
| --- | --- |
| Model: | Citroen C3 PureTech 110 Feel Nav Edition |
| Price: | £16,750 |
| Engine: | 1.2-litre 3cyl petrol, 108bhp |
| 0-60mph: | 9.7 seconds |
| Test economy: | 43.3mpg/9.5mpl |
| CO2: | 103g/km |
| Annual road tax: | £140 |
As part of a recent range shake-up, the Citroen C3 is available with a 108bhp 1.2-litre engine in new Feel Nav Edition trim. This is the model we're testing here, and it costs from £16,750.
The C3's 1.2-litre three-cylinder turbo is the most powerful of the three cars' engines, with 108bhp and 205Nm of torque. That latter figure comes in from just 1,500rpm, so there's plenty of low-down punch; that's a good thing because the engine doesn't relish revs, so it's best to stay in the middle of the range.
The C3 matched the i20 from 0-60mph, but it was the fastest car here from 30-50mph in third gear, taking a reasonable 4.6 seconds, and also the fastest in the crucial 'motorway slip road' test of 50-70mph in fifth gear, where it took 11 seconds exactly.
While the French car has plenty of performance, it's not likely to excite keen drivers. The steering is light and numb, and the soft suspension means there's lots of body roll. Also, the less pleasant shift of the five-speed transmission means it's not much fun to flick between gears. It's a crunchy, imprecise action that's not as good as either rival's offering, so the C3 suits a very relaxed driving style.
There are positives to this, though. In removing any sporting aspirations and focusing on comfort, Citroen has given the C3 a set-up that will really appeal to drivers who like to take things easy.
The car's suspension is genuinely soft, but it doesn't feel floaty or uncontrolled. Instead it soaks up bumps and imperfections very well, yet offers just enough grip. If you push it hard it will lose grip earlier than its rivals here, but that's not the point.
Higher-speed driving on the motorway or a bumpy back road is more comfortable in the C3 than in either the i20 or the Micra, both in terms of ride quality and refinement. However, rev the engine too much and it can get a bit noisy in the cabin.
Testers' notes: "The Airbumps on the C3's doors should help prevent dings in car parks, and they're standard on Flair models; to get them on our Feel Nav Edition you'll have to pay an extra £290."
Nissan Micra
| | |
| --- | --- |
| Model: | Nissan Micra IG-T 90 N-Connecta |
| Price: | £16,770 |
| Engine: | 0.9-litre 3cyl petrol, 89bhp |
| 0-60mph: | 10.8 seconds |
| Test economy: | 45.5mpg/10.0mpl |
| CO2: | 99g/km |
| Annual road tax: | £140 |
The latest Nissan Micra is more attractive than ever, bringing the car bang up to date with a rejuvenated formula that appeals to younger drivers. Here we're testing a £16,770 N-Connecta (our pictures show a Tekna) with the 89bhp 0.9-litre petrol engine.
As with the i20 and C3, the Micra uses a three-cylinder turbo engine. It has the smallest capacity in this test, at just 898cc, and produces the least power and torque, at 89bhp and 150Nm respectively.
Straight-line performance isn't the most important factor for a supermini, but the engine does feel more strained than its rivals', particularly in the higher gears. The Nissan took 10.8 seconds to cover 0-60mph on test, more than a second slower than the other models. Still, it beat the i20 from 30-50mph in third and fourth gears, posting respective times of 5.0 and 7.2 seconds in those tests, due to shorter gearing. Yet its 14.5-second time from 50-70mph in fifth shows how lethargic the car is in the higher gears.
That means you'll need to shift more often in the Micra, and while the box has a more precise action than in the Citroen, it's not as smooth and satisfying as the i20's transmission. None of these superminis has an above-average gearbox; they're all merely fit for purpose rather than fun to use.
The clever Active Trace Control electronic system uses the brakes automatically to improve the Micra's agility by subtly applying braking to the wheels to help turn the car around a corner. It's only discreet intervention, but the Nissan does handle better than its rivals because it maintains body control while cornering.
However, another system, called Active Ride, isn't quite so effective. The ride is acceptable on faster roads, but potholes and ridges upset the car's slightly firmer-feeling chassis next to its rivals here. The Nissan is also blighted by a high driving position that means taller drivers will feel uncomfortable behind the wheel.
Testers' notes: "Nissan is offering plenty of customisation options with the latest Micra. Exterior colour accents for the bumpers, doors and wing mirrors are all available for customers to choose from."
Verdict
First place: Citroen C3
With its unique personality, the C3 seals the win. It has by far the best interior of these three cars and offers a strong mix of performance and comfort. It's not the best to drive, but a soft ride and comfy seats will appeal to many, plus the punchy and efficient engine, strong kit list and impressive practicality give you more reasons to choose the well-rounded Citroen.
Second place: Hyundai i20
While the C3 is a clear winner here, the i20 and Micra are much closer. Improved infotainment, more safety tech, a big boot and extra equipment helped the Hyundai to nudge ahead. Strong economy and an acceptably comfortable ride add to its appeal, and while the i20 has few dramatic flaws, it's dull, with a plain interior and a forgettable driving experience.
Third place: Nissan Micra
The Micra is more fun to drive than either rival here, delivering the kind of nimble handling you'd expect from a modern supermini. However, it sacrifices ride comfort in the process, and is more cramped inside than the C3 or i20. Its underpowered engine hampers its appeal further, and the infotainment system lags behind. Good safety tech will be a major draw, mind.
Is it worth waiting for this model?
Skoda Fabia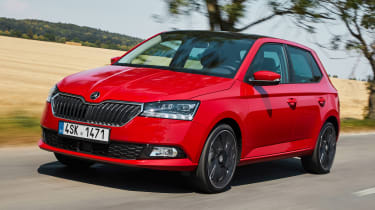 Due: SeptemberPrice: From £11,160Engine: 1.0-litre 3cyl, 108bhp
We've already driven the revised Skoda Fabia ahead of first deliveries next month, and it promises lots of space and hi-tech equipment. A 108bhp 1.0-litre turbocharged petrol engine will be available.
Figures
| | | | |
| --- | --- | --- | --- |
| | Citroen C3 PureTech 110 Feel Nav Edition | Hyundai i20 1.0 T-GDi 100 SE | Nissan Micra IG-T 90 N-Connecta |
| On the road price/total as tested | £16,750/£16,750 | £16,395/£16,395 | £16,770/£16,770 |
| Residual value (after 3yrs/36,000) | £6,017/35.9% | £5,850/35.7% | £5,900/35.2% |
| Depreciation | £10,733 | £10,545 | £10,870 |
| Annual tax liability std/higher rate | £708/£1,415 | £744/£1,488 | £664/£1,327 |
| Annual fuel cost (12k/20k miles) | £1,623/£2,705 | £1,470/£2,450 | £1,544/£2,574 |
| Ins. group/quote/road tax | 16/£336/£140 | 13/£365/£140 | 4/£357/£140 |
| Cost of 1st/2nd/3rd service | Varies by dealer | £99/£219/£99 | £199/£269/£199 |
| | | | |
| Length/wheelbase | 3,996/2,539mm | 4,035/2,570mm | 3,999/2,525mm |
| Height/width | 1,474/1,829mm | 1,474/1,734mm | 1,455/1,743mm |
| Engine | 3cyl in-line/1,199cc | 3cyl in-line/998cc | 3cyl in-line/898cc |
| Peak power/revs | 108/5,500 bhp/rpm | 99/4,500 bhp/rpm | 89/5,500 bhp/rpm |
| Peak torque/revs | 205/1,500 Nm/rpm | 172/1,500 Nm/rpm | 150/2,250 Nm/rpm |
| Transmission | 5-spd man/fwd | 5-spd man/fwd | 5-spd man/fwd |
| Fuel tank capacity/spare wheel | 45 litres/space saver | 50 litres/repair kit | 41 litres/repair kit |
| Boot capacity (seats up/down) | 300/922 litres | 326/1,042 litres | 300/1,004 litres |
| Kerbweight/payload/towing weight | 1,050/550/600kg | 1,065/535/1,000kg | 1,068/462/1,200kg |
| Turning circle | 10.9 metres | 10.2 metres | 10.0 metres |
| Basic warranty (miles)/recovery | 3yrs (60,000)/1yr | 5yrs (unlimited)/1yr | 3yrs (60,000)/3yrs |
| Driver Power manufacturer/dealer pos. | 25th/11th | 15th/12th | 4th/25th |
| NCAP: Adult/child/ped./assist/stars | 88/83/59/58/4 (2017) | 85/73/79/64/4 (2015) | 91/79/79/72/5 (2017) |
| | | | |
| 0-60/30-70mph | 9.7/10.5 secs | 9.7/10.2 secs | 10.8/10.8 secs |
| 30-50mph in 3rd/4th | 4.6/7.7 secs | 5.4/7.8 secs | 5.0/7.2 secs |
| 50-70mph in 5th | 11.0 secs | 12.0 secs | 14.5 secs |
| Top speed/rpm at 70mph | 117mph/2,500rpm | 117mph/2,500rpm | 109mph/2,900rpm |
| Braking 70-0/60-0/30-0mph | 53.7/38.8/11.2m | 48.6/36.0/9.0m | 49.0/34.0/9.2m |
| Noise outside/idle/30/70mph | 74/51/62/70dB | 67/42/68/75dB | 71/51/65/73dB |
| Auto Express econ. (mpg/mpl)/range | 43.3/9.5/429 miles | 47.8/10.5/526 miles | 45.5/10.0/410 miles |
| Govt urban/extra-urban/combined | 51.4/70.6/61.4mpg | 48.7/62.8/56.5mpg | 50.4/76.3/64.2mpg |
| Govt urban/extra-urban/combined | 11.3/15.5/13.5mpl | 10.7/13.8/12.4mpl | 11.1/16.8/14.1mpl |
| Actual/claimed CO2/tax bracket | 151/103g/km/21% | 137/114g/km/23% | 143/99g/km/20% |
| | | | |
| Airbags/Isofix/park sensors/camera | Six/yes/£250/no | Six/yes/yes/no | Six/y/£600*/£600* |
| Auto box/lane keep/blind spot/AEB | No/yes/no/£600* | £1,250/yes/no/yes | No/yes/£600*/yes |
| Clim ctrl/cruise/leather/heated seats | Yes/yes/no/no | Air-con/yes/no/no | Yes/yes/no/no |
| Metallic/LEDs/keyless go/pwr tailgate | £495/no/no/no | £550/no/no/no | £575/no/£250/no |
| Nav/digi dash/DAB/connected apps | Yes/no/yes/yes | No/no/yes/no | Yes/no/yes/yes |
| Wireless charge/CarPlay/Android Auto | No/yes/yes | No/yes/yes | No/yes/no |