Infiniti Q30 Concept unveiled
First pictures of Infiniti Q30 Concept that's set to be unveiled at Frankfurt Motor Show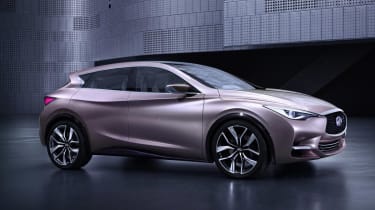 Infiniti has released its first official image of the new Q30 concept. The Japanese brand claims that the "Q30 Concept deliberately challenges categorisation – not a coupe, not a hatch and not a crossover but a fusion of the three body styles."
So that's why, despite looking like a crossover along the lines of the new Mercedes GLA, the new car wears Infiniti's new 'Q' badge, for road cars, rather than 'QX' for crossovers.
The Q30 Concept will be unveiled at the Frankfurt Motor Show in two week's time, and, thanks to its unusual styling, previews the firm's rival to the Audi A3, BMW 1 Series, Audi Q3 and BMW X1.
Infiniti claims that the Q30's look, created by a team led by new Executive Design Director Alfonso Albaisa, is designed to appeal to younger customers "seeking an alternative to traditional premium compact vehicles and open to convention-challenging approaches."
The design is supposed to appear sporty like a coupe, while the car has the space of a hatchback combined with the higher ride height of a crossover.
The hybrid of styling cues is part of Infiniti's attempt to add class to the brand, with the firm also claiming that the Q30 Concept will feature new levels of fit and finish - the production version will be built at Nissan's award-winning plant in Sunderland from 2015 - and performance.
As with the new Q50, it's expected that Infiniti's Director of Performance - three-time F1 world champion, Sebastian Vettel - will have some input into the car's driving dynamics. The Q30 will use Mercedes engines shared with the latest A-Class, as part of the Renault-Nissan alliance's agreement with the German firm.