All new Jaguar and Land Rover vehicles will be electrified from 2020
Jaguar Land Rover CEO Dr Ralf Speth confirms that all the brand's new models will be electrified by 2020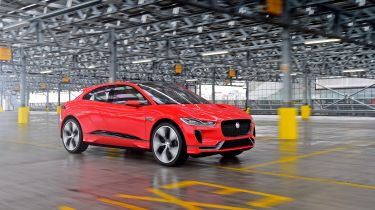 Jaguar Land Rover is the latest car manufacturer to announce its plans for an electric future, confirming at its inaugural Tech Fest that every new model the group makes from 2020 will feature an electrified variant.
Dr Ralf Speth, Jaguar Land Rover CEO, said: "Every new Jaguar Land Rover model line will be electrified from 2020, giving our customers even more choice. We will introduce a portfolio of electrified products across our model range, embracing fully electric, plug-in hybrid and mild hybrid vehicles."
• Best electric cars on sale right now
In tandem with the announcement, Dr Speth referenced the industry's wide ranging turn towards electrification, and added that the UK government must do more to match carmakers intent on electrifying their ranges.
Dr Speth said: "Dates are set by the UK government for the banning of diesel and petrol vehicles by 2040, but with no detailed plans behind this bold statement
"We as a company can deliver electric vehicles. Where is the network of charging points that they will require to function? Indeed, where is the power grid that will allow us to build them?"
JLR's first fully electric vehicle will go on sale next year in the form of the I-Pace – an all-electric Jaguar SUV with a claimed range of at least 300 miles, a powertrain with up to 395bhp, and a starting price around the £55,000 mark.
Further all-electric vehicles will be spawned across both brands using the architecture and components currently being developed for the firm's Tesla Model X rival.
Our spy photographers have spotted a trio of mild hybrid Jaguar models undergoing assessment too, hinting that hybrid versions of the XE, XJ and F-Pace are en route.
Speaking to Auto Express last year, Speth confirmed that by 2020, half of JLR's range, old and new, would be electrified, while hinting at plug-in hybrid variants of both the full size Range Rover and Range Rover Sport – the latter of which we have also spied testing.
Similarly, Dr Speth has suggested that some JLR EVs could be built here in the UK, though the I-Pace looks set to be manufactured at the firm's plant in Graz, Austria.
Are you excited about Jaguar Land Rover's electric future? Let us know below...