'The JLR management merry-go-round is up and running'
With JLR CEO Sir Ralph Speth retiring, Steve Fowler looks at who in the automotive industry looks set to replace him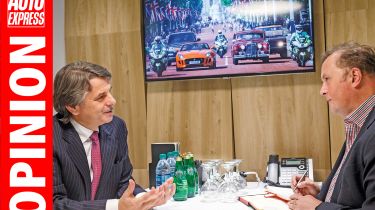 We've expected it for a while, but the news of JLR CEO Sir Ralf Speth's retirement is still a seismic event in the UK car industry. He sits at the top of a company that employs around 40,000 people globally, of which close to 35,000 are in the UK. Without his leadership, Land Rover and Jaguar wouldn't be what they are today: the envy of other car makers around the world.
 It's been a rollercoaster ride for Speth, though. Incredible highs, with the launch of some brilliant new cars (including four Auto Express Car of the Year Awards during his tenure) and, more recently, some seriously difficult times. He leaves the company in a much better place than when he became CEO in 2010, but there's still much to do, not least in improving reliability and service.
But herein starts a managerial merry-go-round with wide-ranging implications. There'll be plenty of internal candidates for the job, including rising Auto Express Brit List star and current JLR engineering director Nick Rogers (Speth himself has an engineering background). Former Land Rover MD and now Lotus CEO Phil Popham must be on the list – although that'd be a tough place to leave.
Auto Express Hall of Fame inductee Mike Manley has already been mentioned in reports. He's currently CEO of FCA, but won't be running the combined FCA/PSA company. Mike's success at FCA and Jeep won't have gone unnoticed; he could be just what JLR needs.
Also this week, Aston Martin has a new chairman. And former SEAT CEO Luca de Meo has finally been confirmed as the new boss of Renault. That's hugely significant; the French brand is showing great signs for the future, and with someone as good as de Meo at the helm, it's even more exciting. 
That's how important getting the right CEO is, as PSA proved when it appointed Carlos Tavares in 2014. Its brands haven't looked back since. So good luck to Tata in the search for Speth's successor, a crucial role for JLR and the UK.
What do you think JLR's future should look like? Let us know in the comments below...