Jaguar F-Type vs E-Type
Jaguar has high hopes that its stunning new F-Type can be a worthy successor to the legendary E-Type. We put the two cars head-to-head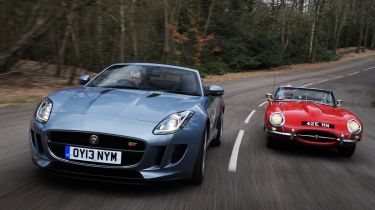 It's been a long time coming, but we've reached the moment of truth for the new Jaguar F-Type, as we test it on UK roads for the first time. To find out if the car has what it takes to join the ranks of legendary Jaguars, we've lined it up against a very special opponent.
The original E-Type was launched more than half a century ago, and ever since then, Jaguar has tried to recapture its magic. Over the years, models such as the XJ-S and XK have come near and yet been so far from the E-Type's perfect mix of style and performance.
But from the outset, the F-Type's aim is to be a thoroughly modern sports car that gives a nod to its famous predecessor.
To test its credentials, we've lined up an original 4.2-litre Series 1 roadster against what we believe is the highlight of the F-Type range – the 375bhp 3.0-litre supercharged V6S.
Does the newcomer deliver the same mix of talents that made the E-Type so desirable? Or is it yet another near miss for the British brand? Read on to find out…
Verdict
It's been nearly 40 years since the E-Type bowed gracefully out of the sports car class, but the F-Type has brought Jaguar back with a bang. By delivering a winning blend of stunning looks, scintillating performance and thrilling handling, this sensational car has proven it's a worthy successor to the legend.
What really impresses is the depth of the new model's talent. The beautifully finished interior oozes upmarket appeal and cossets its occupants, while the hi-tech suspension and slick automatic gearbox make the car a doddle to drive every day.
And while it's not exactly cheap to buy, the classy Jag justifies its hefty price by being one of the must-have cars of the year. However, only time will tell whether it'll have the enduring appeal of the E-Type.
The sleek sixties icon still turns heads wherever it goes, particularly in gorgeous Series 1 guise. And although time has caught up with the E-Type's driving dynamics, it's still hugely entertaining from behind the wheel – when the sun is shining and you have an open road stretching out ahead of you, few cars are as enjoyable to drive.
So we're happy to report the F-Type has enough of the E-Type's intoxicating DNA to prove a worthy successor – it's one of the best sports cars on sale today.