New Jaguar XE SVR: Jag's BMW M3 rival spied testing
New V8 Jaguar XE SVR supersaloon is shaping up, and it's likely to develop around 500bhp. Here's our first look
Jaguar Land Rover's exclusive Special Vehicle Operations (SVO) division, which is responsible for developing high-performance and ultra-luxury versions of existing models, is applying the finishing touches to a fully-fledged BMW M3 rival, the XE SVR.
The new hot Jaguar XE has been spied testing, suggesting that an SVR badged variant of Jaguar's BMW 3 Series rival is en route and could be on sale soon.
The Jaguar XE SVR will be the most powerful version of Jaguar's mid-sized executive car yet, boasting around 500bhp when it arrives, and as these new spy shots reveal, it'll get a more muscular design to match its newfound supercharged V8 power.
A more aggressive front end appears to be masked off in these latest spy shots, and is joined by extended side skirts and four exhaust exits in what looks like a placeholder rear bumper. The whole thing rides on large alloy wheels, housing large sports brakes with red calipers.
Auto Express understands that the SVO engineering has been in Northern Spain benchmarking the supersaloon – previewed in our exclusive images – against its closest rivals from BMW and Mercedes.
The XE SVR will be Jaguar's first attempt at developing a genuine competitor for the likes of the M3 and Mercedes-AMG C 63. Until now, the only other models to receive the SVR treatment in JLR's product portfolio are the F-Type and Range Rover Sport.
As with those models, the XE SVR will use Jag's tried-and-tested 5.0-litre supercharged V8, linked to an eight-speed automatic gearbox. In its most potent state of tune – in the F-Type SVR – the powertrain develops 567bhp and 700Nm of torque. It's unlikely we'll see such a heady figure in the XE, but an output of around 500bhp will keep the car ahead of the BMW and competitive with the Mercedes.
JLR has yet to launch an SVO-developed model with rear-wheel drive; the F-Type and Range Rover Sport SVR are both four-wheel drive. To maximise its performance and harness all of the available power, Jag could employ a similar 4WD set-up in the XE, making the SVR closer in spirit to Audi's upcoming RS 4. However, that's likely to add around 50kg of extra weight.
• Best performance cars on sale right now
Either way, the performance upgrade should give the Jag a sub-four-second 0-62mph time; the current flagship, the 336bhp XE S, manages it in 5.1 seconds.
As our images show, the XE is set to be marked out by blistered arches, aggressive bumpers and side skirts – just like both other SVR models – while unique alloys will hide beefier performance brakes. A carbon-ceramic set-up is also likely to be made available. Plans for an XE Coupe are understood to have been put on ice, however, so an SVR-badged rival to the BMW M4 Coupe is looking unlikely.
Further tweaks continue under the skin of the SVR saloon; chassis tweaks and spring and damper revisions will make the hot XE stiffer and more focused. An electronically controlled limited-slip rear differential should also improve traction.
The XE SVR will arrive almost halfway through the saloon's lifecycle, with a likely price tag of around £65,000, but SVO bosses recently expressed a desire to begin introducing high-performance variants of standard cars much closer to their initial launch. Audi is introducing a similar strategy with its RS models.
Elsewhere at JLR, bosses have also hinted that the SVR treatment could be applied to the upcoming electric i-Pace SUV. "Of course it's something we'll look at," John Edwards, boss of the SVO division, told Auto Express at last year's Los Angeles Motor Show.
Jaguar XE SVR's rivals
Jaguar's late entry into the compact supersaloon market means there will be an army of established cars for the XE SVR to fend off. Here are the models it will face.
Mercedes-AMG C 63 S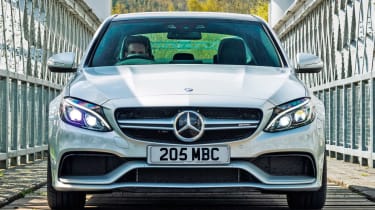 Engine: 4.0-litre V8 bi-turboPower: 503bhp0-62mph: 3.9 secs Price: £69,490
Mercedes-AMG has set the benchmark for Jaguar to beat with its C 63 S saloon. Powered by a 4.0-litre twin-turbo V8 developing 503bhp, it's the most potent contender in the class. A slightly more restrained non-S version of the C 63 is available, producing 469bhp, but both are rear-wheel drive and feature seven-speed auto boxes.
BMW M3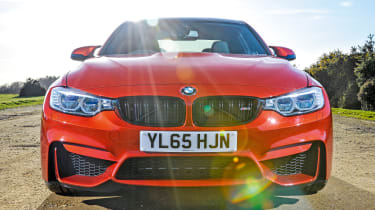 Engine: 3.0-litre 6cyl bi-turboPower: 426bhp0-62mph: 4.3 secs Price: £57,335
The latest M3 was also the first to adopt a twin-turbo engine. It developed more power and torque than the previous 4.0-litre V8, while also being more efficient. The optional Competition Pack raises the engine's power to 444bhp, and the M3 is one of the few supersaloons that's still available with a manual gearbox.
Audi RS 4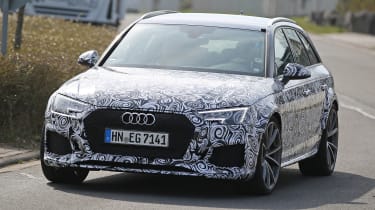 Engine: 2.9 V6 bi-turbo Power: 500bhp (est)0-62mph: 3.9 secs (est) Price: £60k (est)
After years as an estate, the Audi RS 4 will return imminently as a saloon for its fourth generation. Our spies have caught the Avant on test, and under the skin we expect a tuned Porsche Panamera-sourced 2.9-litre twin-turbo V6 with around 500bhp, plus quattro 4WD.
Would you choose a Jaguar XE SVR ahead of its German rivals? Let us know below...