Jaguar XF Sportbrake vs rivals
The Jaguar XF estate launches into the practical exec market, against key rivals from BMW and Audi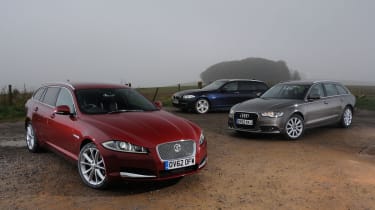 Jaguar has managed to reinvent itself by revamping its luxury car range. But now that the XK, XF and XJ are established as strong contenders in their respective classes, it's time for the company to expand its line-up.
As well as introducing the new F-Type sports car, Jaguar has added the practical Sportbrake estate to the XF range. It's designed to take on the best executive estates on the market, so it comes with a vast boot that's littered with useful touches, while the model choice mirrors that of the XF saloon. On its road test debut, we try the more powerful of the 2.2-litre diesels offered in Luxury spec.
However, the Jaguar's rivals in this test are two of the most versatile cars you can buy in any price bracket. The Audi A6 Avant offers a mix of practicality and upmarket hi-tech luxury that's tough to beat, while the economical and sharp-handling BMW 5-Series Touring is an equally tempting alternative.
Can the XF Sportbrake cut it against such strong rivals as Jaguar moves into this competitive market for the first time?
Verdict
The outcome of this test is extremely close, and you wouldn't feel at all short-changed if you bought any one of these cars.
Jaguar should be commended for taking on the executive estate class head-on. The Sportbrake is versatile and comfortable, and it carries the same sense of occasion that has made the XF saloon so popular. Add to that a long list of standard kit and running costs equally as low as its rivals', and you've got a legitimate alternative to the usual German premium estate choices.
However, the gruff 2.2-litre diesel is at odds with the Jag's relaxed nature, while higher depreciation also takes the shine off the XF's package. So the faster, more economical and slightly more versatile BMW 520d Touring has the edge – although we'd recommend switching to the standard suspension for more comfort.
The same goes for the Audi A6 Avant. It has a great interior and marginally the biggest boot here, but it's not at its best with the Multitronic auto in S line trim. Add to that a shorter standard kit list, and it comes third this time around.