"Where would Sunderland and Melfi be without motor manufacturers?"
More car plants would bring hope and prosperity to more corners of the world, says Mike Rutherford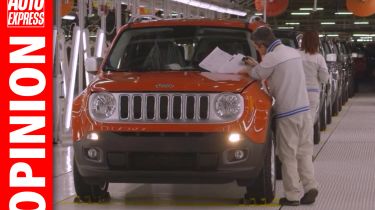 Had I not personally witnessed it earlier this month, I wouldn't have believed that 'American' Jeeps could be built on the same production line as Fiats in a picturesque but remote part of Italy.
FCA (Fiat Chrysler Automobiles) can take the credit for shifting Jeep production – or at least some of it – from North America to a part of southern Europe where jobs are in short supply. Some reports suggest that around six out of 10 working age folk in the Italian deep south are unemployed and, sadly, have little choice but to leave the region to seek work elsewhere.
• "There are countless lies surrounding the real-world capabilities of diesel, petrol and electric cars"
But just as Vauxhall and Nissan rescued the industrial north-west and north-east of England with their plants at Ellesmere Port and Sunderland, FCA is now the saviour of central southern Italy – where its Melfi factory proudly and productively sits.
Honestly, I've been to countless 'cutting- edge' car plants in Europe, Asia and The Americas. But few – if any – have left me with a warmer, more optimistic glow.
The Jeep Renegade/Fiat 500X/Fiat Punto factory a couple of hours from Naples brings hope. More importantly, it provides thousands of quality, highly paid jobs that allow young, well educated, ambitious people from the region to remain close to home. Fewer have to pack their bags, turn their backs on their heritage and their loved ones, then seek employment in other parts of Italy or overseas.
• "The door's left open for makers to find cheaper land & workers abroad"
It's no exaggeration to say that companies such as Vauxhall in Ellesmere Port, Nissan in Sunderland and now Fiat Chrysler in Melfi are giving tens of thousands of directly or indirectly employed workers – plus hundreds of thousands of family members – decent incomes and comparatively bright futures. Where would these places be today were it not for the global motor manufacturing companies and their billions?
On their knees, I suspect. Just as Middlesbrough – a metal producing, rather than a car making town – is at present following this month's cruel and heartbreaking decision to close the local Redcar steelworks.
• "I love SsangYong's determination to deliver good value for money"
Yes, it's true that vehicle manufacturers aren't exactly the flavour of the month. And no, they're not perfect. But as the good folk of Melfi, Ellesmere Port and Sunderland will confirm, they'd be lost – and skint – without them. Which is why we need more car plants, bringing more hope and prosperity to more corners of the world.
Do you think global manufacturers have an obligation to open more car plants in areas like this? Let us know below...