"The door's left open for makers to find cheaper land & workers abroad"
No other nation would display 50 per cent of its flag when promoting its products, says Mike Rutherford - why is Britain?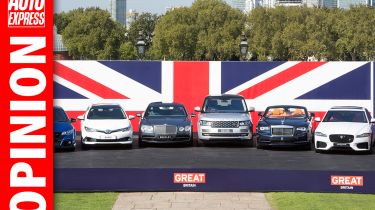 An inspired decision brought the British motor industry to Greenwich, South London, on the eve of the Frankfurt Motor Show. It's a crying shame, then, that the public wasn't told about the exhibition by the Thames. The setting was right, the weather was right and the cars were right.
I fear the presence of a Government Minister, Sajid Javid, may have transformed what could and should have been a nice car fest for all into a needlessly high-security operation for a man and his ministerial limo.
• London Motor Show 2016 to bring major car shows back to capital
The Business Secretary seemed out of his depth and said next to nothing during his desperately short formal 'speech', which demonstrated how out of touch British politicians are with one of our largest and most important manufacturing industries.
Those of us in attendance were subjected to his irrelevant views on a certain TV programme and its former presenter. Yet what we wanted and deserved was, for example, his take on the growing problem of UK-based manufacturers creating new plants and jobs overseas instead of here.
The official position of his department is "companies have to make their own commercial decisions". In other words, the door's left open for vehicle makers who've traditionally built in Britain to find cheaper land, builders and car workers abroad. And they will... it's worrying.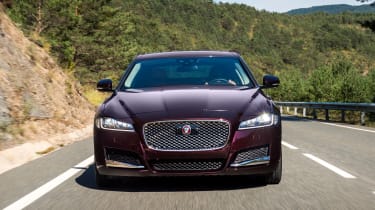 On a brighter note, we can be proud of the 10 new Brits on stage: the Aston Martin Rapide (built in Gaydon), Bentley Flying Spur (Crewe), Honda Civic Type R (Swindon), Jaguar XF (Castle Bromwich), Range Rover (Solihull), MINI Clubman (Cowley), Nissan Qashqai (Sunderland), Rolls-Royce Dawn (Goodwood), Toyota Auris Hybrid Touring Sports (Burnaston) and Vauxhall Astra (Ellesmere Port). However, the fact remains that every one of these 'Brit' brands is now foreign owned.
Maybe this explains why when these cars appeared in Greenwich, they did so against a backdrop of half a Union Jack. Big mistake. No other nation would dare display just 50 per cent of its flag when promoting its products – or come to think of it, anything else. So why Britain is falling into this trap (see www.gov.uk/britainisgreat) is beyond me.
Thankfully, the open-to-all London Motor Show hits another part of the capital, Battersea, within seven months. Expected to be proudly flying over the event will be an entire Union Jack.
Do you agree with what Mike says? Let us know in the comments!