Kia Soul EV vs BMW i3
Kia is the latest manufacturer to enter the all-electric small car market with its new Soul EV. Can it take the fight to the BMW i3?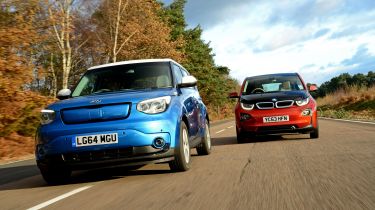 Kia is the latest manufacturer to enter the all-electric small car market with its new Soul EV. But can it really take the fight to the current class leader, BMW's i3?
After a slow start, electric cars are charging up the sales charts. More makers are launching EVs, and Kia is the latest to join the fray with its Soul EV.
Based on the distinctive supermini, it has a powerful 109bhp electric motor, a lithium-ion battery pack and a claimed range of 132 miles. It's also packed with kit, although it comes at a price – even after the Government's £5,000 plug-in car grant, the Kia will cost you £24,995.
That money buys some talented EVs, including our current favourite, the BMW i3. Unlike most rivals, the bold BMW was designed from the ground up as an EV. It features outlandish looks, a bespoke cabin and a hi-tech, lightweight structure. Plus, it has the sort of strong pace BMW buyers expect. And while it trails on kit, a price of £25,680 puts it in the Soul's sights. So which electric car will charge ahead?
Click on the links above to read each in-depth review, then read on to see our verdict.
Head-to-head
Performance
Given its power and weight advantage, it came as no surprise that the BMW was fastest at the track. But even we were shocked at the margin of its superiority.
It blasted from 0-60mph in only 7.1 seconds, which was a huge 3.6 seconds faster than the Kia. In the real world, the Soul feels entertainingly brisk, but the i3 has scorching pace that leaves owners of far more powerful and expensive cars looking red-faced.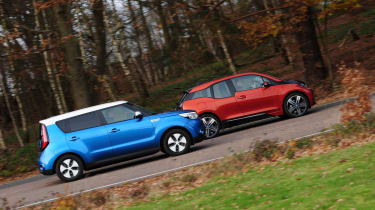 Charging
Both cars can be charged using a mains socket, with each reaching 80 per cent charge between seven and eight hours. There's also the option of installing a fast charger – the Kia is compatible with the free British Gas unit, but the i3 requires BMW's £315 i Wallbox.
Standard kit
You won't be short of gadgets in either of our contenders, as both are equipped with sat-nav, Bluetooth, a DAB radio and climate control. On top of this, the Kia adds heated seats and steering wheel, as well as metallic paint.
Verdict
1st place: BMW i3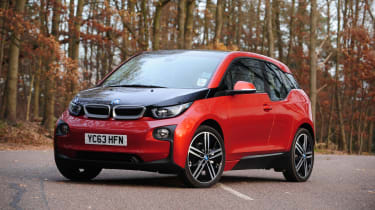 It's another road test victory for the innovative i3. By going for bold with its first-ever electric car, BMW has stolen a march on rivals that persist in shoehorning a battery pack and electric motor into an existing model. The combination of concept car looks and cutting-edge cabin design gives it masses of kerb appeal, while the powerful motor and lightweight construction result in electrifying performance.
2nd place: Kia Soul EV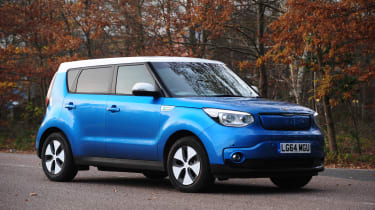 In isolation, the Soul EV is a distinctive, practical and eco-friendly family runaround. Refined power delivery, light controls and compact external dimensions make it perfect for urban commutes, plus it comes loaded with standard kit. It also edges the i3 for interior space. But it simply can't match the BMW for performance, advanced engineering, bold style and upmarket desirability.
Switching to electric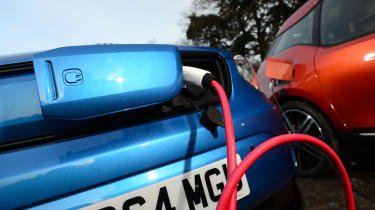 Running an electric car obviously demands some compromises, but makers are working hard to ensure the switch is as seamless as possible for drivers.
Kia is hoping that its trademark seven-year warranty will sway buyers concerned about the expensive, hi-tech underpinnings of its electric Soul. And like many rivals, the new EV model is equipped with a bespoke sat-nav system that guides owners to the nearest public charging points.
Plug into one of these rapid chargers, and you'll benefit from an 80 per cent charge in around half an hour – admittedly not as handy as filling up a petrol or diesel car at the pumps, but it boosts the car's usability.
Yet it's the BMW that's likely to be more attractive to owners used to internal combustion. Not only is the i3 available in range- extender guise, but it also qualifies for membership to the BMW Access scheme.
This is a points-based programme that gives i3 owners 700 points a year. They can 'spend' these on the use of conventional BMWs for longer journeys – for example, a 1 Series will set you back 100 points a day.