New Lamborghini concept car teased
Teaser shot of new Lamborghini concept hints at an all-new model, possibly with four seats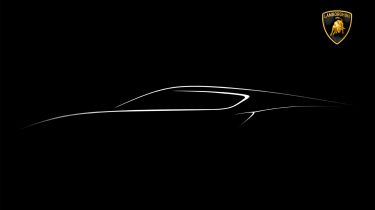 Lamborghini has revealed the first teaser shot of a concept car that it will be unveiling at the Paris Motor Show in early October. And the line drawing suggests it's not simply a variant of any of Lamborghini's existing models.
Instead, the gentle curves and sweeping window line look more reminiscent of the firm's legendary Miura. The image was released with the slogan: "Once perfection is achieved, you can just double it". This points to one of three things: we could be about to see a Lamborghini with four seats, or possibly one with four doors and four seats. The third option is that the new car comes with two power sources: an engine and an electric motor.
If the company is heading down the plug-in hybrid route, this would be the first time we've seen the tech in a Lamborghini. If it's the four-seater option, it would be the first family friendly Lamborghini since the Urus concept SUV of 2012 and the Estoque concept of 2008.
Lamborghini does have a history of four-seat production cars, such as the Espada and Urraco. Then there was the unusual LM002 off-roader of the eighties and early nineties.
It seems unlikely that four seats would be squeezed into the Huracan's footprint, so if the new model is to share a platform with any of Lamborghini's existing models, we'd bet on it being the longer Aventador.
All the details will be revealed on the evening of 1 October, just ahead of the Paris Motor Show opening on 2 October.