'Land Rover just did the unthinkable in the World Car of the Year final'
This week, Mike Rutherford talks about the World's manufacturing elites and how that could soon include the British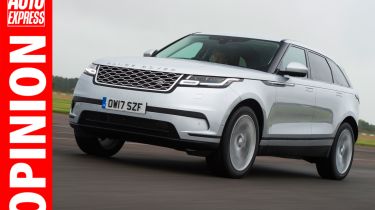 Who built the best cars in the world over the last decade or so? Germany and Japan, I'd argue. Nobody's pretending they're perfect – both have produced a few automotive abominations over the years. But, credit where it's due, they have got their cars right far more frequently than they've got 'em wrong.
Between 2006 and 2016, Audi, BMW, Mercedes and VW won the World Car of the Year title for Germany seven times. During the same period, Lexus, Mazda and Nissan claimed it for Japan on four occasions. 
• World car of the Year Awards
This was nothing to do with coincidence, luck or bias. Instead, it was everything to do with the German and Japanese brands being superior on the automotive front to rivals based in other nations. 
Things had to change. And they did. It was the end of an era for the 'two best' car-building countries last year when Britain, Jaguar, its workers and its F-Pace lifted the 2017 World Car of the Year title. And the Brits could be in line for another great year because Land Rover is the statistical favourite to win the coveted WCOTY prize in 2018. 
For a company to get one contender into the WCOTY Final 10 is a major achievement. Even Audi and Mercedes weren't good enough to do that this year. Yet Land Rover just did the unthinkable by occupying a pair of Top 10 positions, thanks to its Discovery and Velar.
So, could it be two WCOTY wins in a row for Britain in 2017 and 2018? Possibly. Would this mean the UK could then join Germany and Japan as one of the 'best three' car countries on Earth? Probably. And if Sweden and Volvo continue to build fine all-new cars, it might be the fourth member of this elite global club. South Korea, blessed with Hyundai-Kia and the rising star that is Samsung Motors, is another that's itching to join.
Undoubtedly, Germany is on the back foot, and to a lesser extent so is Japan. The WCOTY champion of 2010, VW's Polo, has fallen at the first hurdle this year, as the all-new version has just been eliminated by the jurors in the first round of voting. This says much about products going out of fashion: the Polo badge is now 43 years old, and tired. But it says more about the current state of Volkswagen, which still has an awful lot of Dieselgate headaches to shed, and crippling legal and other fees and fines to pay. 
The German auto industry still struggles to see off the Japanese, while at the same time having to cope with stronger-than-ever product challenges from the Brits, Swedes and Koreans. It's hardly game over for Germany and Japan. But, deep down, they know they're being caught – and may even be overtaken.
Enjoy Mike's column? Then why not read last week's, where he talks about the rude health of British car makers?