'JLR moving Discovery production abroad is only half the story'
Although Land Rover Discovery production is heading to Slovakia, there is good news to be found, says Mike Rutherford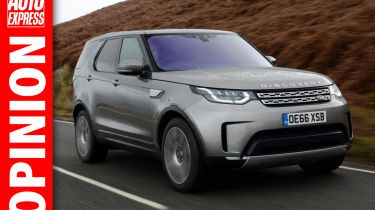 You, dear reader, have thus far seen and heard only half of the 'JLR moves all Discovery production to Slovakia' tale. I'm here to humbly suggest that there's another, more positive side to the story.
True, Land Rover will soon stop making its Discovery in Solihull and, sadly, jobs will be lost. But let's at least put this negative news in context. Two hours up the road, Land Rover Halewood is in rude health, and employment prospects there have rarely been brighter. That's due to the recent announcement that the more popular, affordable and accessible Discovery Sport will still be made in the north west. So contrary to the impression you may have been left with, world-class SUVs wearing Discovery badges will still be built in Blighty.
And it gets better, because the company has also just confirmed that the new version of the even more affordable and accessible Evoque will be built at Halewood, too. Inexplicably, this great news has been downplayed or ignored by many media outlets. Yet as my man on the inside at Land Rover told me, if Nissan of Japan did something similar to this in Sunderland, it'd be a Financial Times front page story.
Back at Solihull, JLR and its Indian owner Tata would be much wealthier if they sold the site for housing, then shipped more production to cheap, subsidised territories overseas. Instead JLR is staying put, dealing with its space limitations at Solihull and ensuring the acreage previously occupied by the outgoing Disco production lines will be transformed into a much-needed electric vehicle facility, where job creation will surely be a priority. Also, don't forget that Solihull is set to build the current and future Range Rover, Range Rover Sport, Velar and Jaguar F-Pace.
If you still feel JLR is turning its back on Britain by building a relatively tiny number of Discovery models in Slovakia, consider my senior inside source's well-chosen words: "If Solihull is to have a bright future we have to do the right thing now. We've already made huge investments there, enabling us to build 325,000 cars per year. And the right kind of investment must continue."
JLR has invested over £20 billion in the past 10 years, he says. Put another way, its investments have been considerably greater than its profits, although it did achieve a healthy – not colossal – pre-tax profit of £1.5billion in 2017/18.
Now that JLR is joining the big league occupied by premium German firms, it has to be like them by building abroad as well as at home. If it's okay for Audi, BMW and Merc to respectively make vehicles in places like Hungary, Thailand and South Africa, and it's more than okay for Toyota, Nissan and Honda to build in England, why shouldn't JLR establish a few overseas production lines for itself?
Mike believes far too many companies are scheming to empty drivers' pockets unfairly…