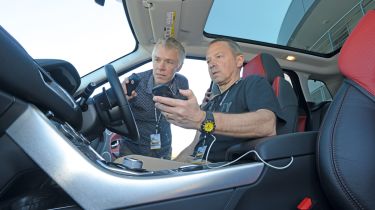 Most car makers include music docking via a plug. Yet gadgets like the iPhone have such slick touchscreens that they can't hope to replicate it – or can they? What would our panel make of the Evoque's standard iPhone dock?
Sam plugged his phone into the cubby between the front seats. "It's simple," he said. "You've got all your artists there. The touchscreen definitely helps – you don't want to be messing with buttons on the wheel." Nathan was impressed, too. He had a connector in his Toyota Celica, yet it didn't have the same control over tracks and playlists as the Evoque's eight-inch screen. "Not as good as an iPhone, but not bad," he said.
When Mike tried his iPhone 4, we could see the artists and it was playing, although there was no sound. We tried again two hours later and the phone worked – you just need to tell the phone to play via cable or Bluetooth. But this glitch didn't change our readers' verdict.
Verdict: take it