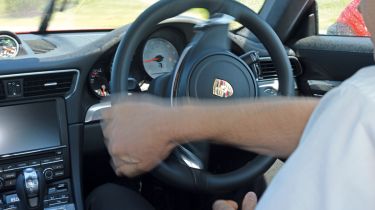 Rules came in last year dictating that all newly launched cars have anti-skid electronic stability control (ESC), with every new car getting it from October 2014. However, many drivers of older models still haven't experienced it.
The Porsche Experience at Silverstone proved what an effective driver aid ESC is. The wet-handling area features a kickplate that violently tries to throw the rear-wheel-drive 911 into a spin. All our readers had two goes: one with ESC on, the other with it off.
Peter didn't realise it was on. "I brought the car back under control with ESC on, and assumed I had a lot more skill than I expected," he said. "Without it I spun three times. I'm impressed: ESC is a must."
Only two drivers caught the spin with ESC on and off – youngsters Aaron and Nathan – so both were confident they didn't need it. "I'd never actively seek it," said Nathan. "My next car will be a Toyota GT 86, and I know I can turn its ESC off fully."
Most of our readers knew the system worked by using wheel sensors to detect slip and applying the brakes on individual wheels to bring the car back in line. But the name was a mystery to some of our panel.
Verdict: take it