Lexus NX 4x4 is shaping up to battle Audi Q5
Exclusive first picture of the new Lexus NX SUV, a £30k crossover on sale in October 2014
Lexus has revealed that its new NX crossover will arrive in the UK in October, and prices are expected to start at around £30,000 – putting it in close contention with its Audi Q5 and BMW X3 rivals. But the NX will certainly stand out with its looks and its powertrain.
The company gave us an idea of what to expect from the newcomer with the striking, angular LF-NX concept at September's Frankfurt Motor Show. Every element of the design caused a stir, from the giant spindle grille and split headlights up front to the muscular flanks and deep slashes running down from the tail-lamps at the rear.
Our exclusive image shows how the final production model will embrace the concept's controversial look. And while the styling won't be to everyone's taste, it's further proof of Lexus' sharp design language, first seen on the latest IS.
The oversized spindle grille remains, ensuring that the car is still instantly recognisable as part of the Lexus family. But the lights have been toned down, and now resemble those of the new Jeep Cherokee. The flared wheelarches and rippled bodywork along each flank remain, although the production NX's wheelbase is a little longer than the concept's to ensure there's plenty of space for occupants, front and rear.
The interior is expected to mirror that of the IS – itself a big step forward in quality from the brand's previous offerings. Expect the NX to feature the improved joystick control for the infotainment system from the compact exec, as well as its touch-sensitive heater controls and TFT dials.
Under the bonnet, Lexus will stick with its usual combination of petrol and petrol-electric drivetrains – there will be no diesel. So sales will kick off with the NX 300h, which will use the 2.5-litre four-cylinder 178bhp hybrid drivetrain from the IS. But while the petrol-electric compact exec is rear-wheel-drive, the NX will use the petrol engine to drive the front wheels and the electric motor to power the rears.
A sporty front-wheel-drive NX200t F Sport is likely to join the range later. This will be powered by an all-new 2.0-litre four-cylinder turbocharged petrol engine, which is a replacement for Lexus' ageing 205bhp 2.5-litre V6, and will be used in the IS line-up, too.
It produces around 240bhp, and promises a significant improvement in emissions and fuel efficiency as well.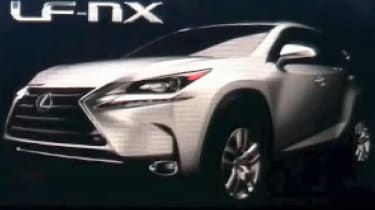 Our exclusive image of the NX is based on this screen grab, taken from a video shown in a presentation by Jim Lentz – CEO of Toyota North America. Lentz was talking about the future of the car industry at the opening of the Detroit Motor Show in January. And while he referred to the car as the LF-NX concept, an inside source confirmed this is the production model, and that the image was shown in error.
• Lexus NX leaked video• Lexus small SUV at Geneva