Maserati confirms F-Type rival for 2016
Maserati Alfieri sports car gets green light in coupe and convertible form, featuring 513bhp V6 and all-wheel drive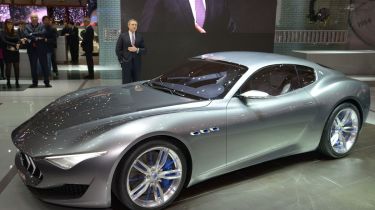 Maserati has confirmed it is to build the Alfieri sports car that was revealed in concept form at the 2014 Geneva Motor Show.
The first production Alfieri coupe will arrive in 2016, positioned below the GranTurismo in the Maserati pecking order. The Alfieri Cabrio, complete with a retractable soft-top roof, will arrive around a year later in 2017, giving Maserati a coupe and convertible rival to the Jaguar F-Type, and Porsche 911.
Maserati has also confirmed the engine range of its new sports car twins. The Alfieri will be available with a 404bhp twin-turbocharged V6, matched to a rear-drive setup.
The same engine will also be offered in 444bhp and 513bhp states of tune, this time available exclusively with all-wheel drive. No V8-powered version will be offered. Maserati purists will also be glad to hear there's no Alfieri diesel in the pipeline.
• Full Fiat-Chrysler five-year plan revealed
A replacement for the larger GranTurismo coupe will appear in 2018, packing a twin-turbocharged V8 engine delivering 552bhp. Rear-wheel drive will be standard-fit, in contrast to the rear and four-wheel drive Alfieri.
Also confirmed was the engine line up of the Levante SUV, due in 2015. The Levante will offer an exclusively all-wheel drive range, with 345bhp and 419bhp twin-turbo V6s, the 552bhp twin-turbo V8, and a fleet of turbodiesel V6s, developing 247bhp, 271bhp, and 335bhp.
Together with an expanded Ghibli sports saloon and Quattroporte limousine range, Maserati's new sports car and SUV lines aim to boost sales from 15,400 in 2014 to an unprecedented 75,000 units by 2018.