Fiat-Chrysler outlines five-year product plan
Fiat CEO reveals the strategy aiming to put Alfa Romeo, Chrysler, Fiat, Jeep among the world's top carmakers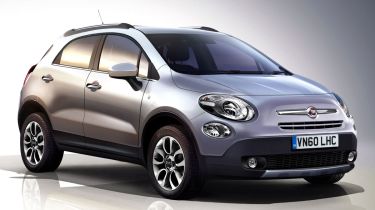 Sergio Marchionne, the CEO of Fiat-Chrysler Automobiles, has today revealed a new masterplan to regenerate the Italian-American alliance into a car-building superpower. Among the targets is a rear-drive chassis rethink for the Alfa Romeo range, Jeep eyeing two million global annual sales, and Fiat's official confirmation that its simplified new range will contain a '500X' compact crossover. Find out what exactly has been announced for each Fiat-Chrysler brand in our news round-up below.
Alfa Romeo
Alfa Romeo is to tear up its lacklustre current range in favour of a new range of rear-drive and all-wheel drive global cars that 'are benchmarked against the best that the German automotive industry has to offer'. The engines and cars are to be built in Italy, ranging from a family hatchback replacement for the current Giulietta to a BMW 3 Series rivals and a 5 Series executive saloon rival.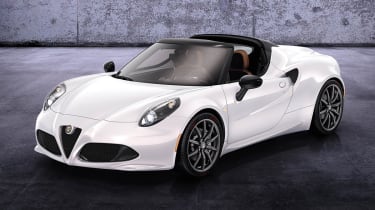 Production of Alfa's brave new era of cars kicks off in the second half of 2015 with the 3 Series-rivalling Giulia saloon. It's just one of eight new products though – including a two new crossover SUVs and the promise of a Cloverleaf flagship, thought to be a hotter 4C, in 2015. The Mito supermini will not be replaced, Alfa has announced.
If the plan bears fruit, Alfa predicts its global sales volume will rocket from 74,000 cars today to over 400,000 by 2018.
Fiat
Fiat is looking to simplify its range, binning the Sedici crossover and Bravo family hatchback in favour of a new member of the 500 family, on sale later this year. The 500X is the sister car to the Jeep Renegade and will be a more utilitarian crossover take on the 500L compact MPV, and rival the likes of the Nissan Juke and Skoda Yeti.
• New Fiat sports car on the way  A fleet of new Fiats are due on-stream from 2015, with the European market set to receive a family hatchback, saloon and estate family – believed to be an enlarged version of the Panda. A 'compact CUV', due to arrive in 2017, is believed to be a Qashqai-rivalling Panda SUV, while an all-new Panda will arrive in 2018.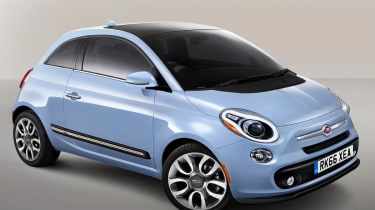 According to a chart plotting out Fiat's global product plans up until 2018, a 'speciality' model will arrive in late 2015. The timing of that, and the fact that there's no mention of a new Spider in Alfa's product plan, suggests that the sports car being co-developed with the Mazda MX-5 and built in Japan will no longer be badged as an Alfa Spider, but will wear the Fiat or Abarth badge. Fiat is targeting a production rise from 1.5m annual units today to 1.9m by 2018.
Jeep
Jeep is plotting a 20 per cent boost in sales between 2013 and 2018, lifting production from 789,000 units to 1.9m cars by 2018. The largest slice of growth will be swallowed by small, compact SUVs – the area where the new Renegade will compete from late 2014. It'll be refreshed in summer 2017, when Jeep also intends to release an all-new Grand Cherokee, and a replacement for the iconic Wrangler.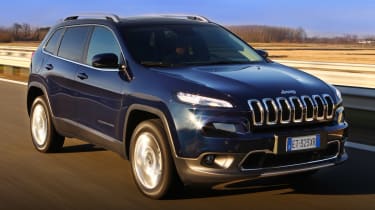 Before then, Jeep's big news is a new mid-size family 4x4 that'll replace the Compass and Patriot models in spring 2016. Finally, a new flagship model, set to be called Grand Wagoneer, will join the Jeep range in mid-2018, aimed at fighting established large SUVs like the Land Rover Discovery, Mercedes GL, and upcoming BMW X7.
Ferrari
From now until 2018, Ferrari is planning to launch a new model every year to its "high-end performance 8- & 12-cylinder street cars." This will include a four-year life-cycle for each new model followed by "M" versions – such as the 458 Speciale – which will continue for a further four years.
Partnership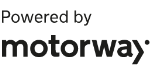 Need to sell your car?
Find your best offer from over 5,000+ dealers. It's that easy.
This suggest we can expect higher-performance versions of the FF in 2015, and the F12 Berlinetta in 2016, while a replacement for the 458 will arrive in 2017.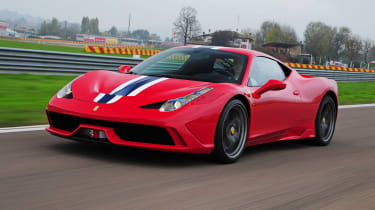 Alongside the mainstream launches there will also be "special series vehicles targeting high-end customers," while Ferrari will aim to maximise profits through its Atelier, Tailor-made and One-off personalisation services and licensed merchandise.
Ferrari is sticking to its policy of not producing more than 7,000 cars a year up until 2018, although it says production could increase to 10,000 cars a year if it can capitalise on expansion opportunities in emerging markets. 
Chrysler
In 2016, a new entry-level Chrysler 100 compact saloon will arrive, aimed at stealing sales from C-segment favourites like the Ford Focus, VW Golf and Skoda Octavia. It follows the new larger 200 saloon, which is on sale now. 
Chrysler's large MPV model, the Town & Country (badged as Grand Voyager in the UK), will remain on sale through until 2018.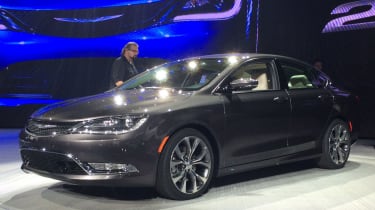 A plug-in hybrid version is promised for 2017, while an all-new large 4x4 model also packing hybrid tech is on the horizon for 2018. 2018 brings a new mid-size crossover Chrysler, priced above the 200 saloon.
The expanded Chrysler range is aimed at swelling sales from 350,000 today to 800,000 by 2018. Such a rise would take Chrysler's total output back to the heady days of 2005, when production peaked at 801,460 units.
Maserati
Maserati has confirmed it will build the Alfieri sports car that was revealed in concept form at the 2014 Geneva motor show. A coupe version will arrive in 2016, with an Alfieri Cabrio due in 2017, giving Maserati a pair of rivals to the Jaguar F-Type, and Porsche 911.
The Alfieri will come with a 404bhp twin-turbocharged V6 powering the rear wheels, while the same engine will also be offered in 444bhp and 513bhp states of tune, this time available exclusively with all-wheel drive.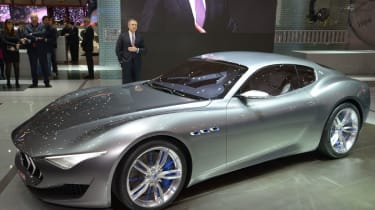 A replacement for the larger GranTurismo coupe will appear in 2018, packing a twin-turbocharged V8 engine delivering 552bhp. Rear-wheel drive will be standard-fit, in contrast to the rear and four-wheel drive Alfieri.
Also confirmed was the engine line up of the Levante SUV, due in 2015. The Levante will offer an exclusively all-wheel drive range, with 345bhp and 419bhp twin-turbo V6s, the 552bhp twin-turbo V8, and a fleet of turbodiesel V6s, developing 247bhp, 271bhp, and 335bhp.
Maserati is hoping to boost sales from 15,400 in 2014 to 75,000 units by 2018.
What do you think of these future plans for Fiat, Alfa Romeo and Jeep? Can they turnaround the fortunes of these famous brands? Or not?