Fiat sports car for 2015
Fiat's four year product plan shows that the new MX-5's sister car will be a badged Fiat or Abarth, instead of Alfa Spider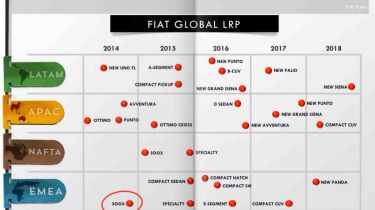 Following Fiat-Chrysler CEO, Sergio Marchionne's comments at the 2014 Geneva Motor Show – where he claimed no Alfa Romeo would ever be built outside of Italy – it's been confirmed that the Alfa Romeo Spider has been dropped from the product plan, and the car will be badged Fiat or Abarth instead.
According to a chart plotting out Fiat's global product plans up until 2018 (by which time it is targeting a production rise from 1.5m annual units today to 1.9m) a 'speciality' model will arrive in late 2015. The timing of that, and the fact that there's no mention of a new Spider in Alfa's product plan, suggests that the sports car has been rebranded to fit with Marchionne's reshaping of his brand portfolio.
• Fiat-Chrysler's five-year plan revealed
Although Marchionne refused to comment on any specifics in Geneva, he did say he remained comitted to using the "architectures and powertrains" originally set out in the agreement. The terms of the joint venture state that the Mazda MX-5 and its sister car will be built by Mazda in Hiroshima, Japan. An Abarth would be an ideal candidate for a sports cars given its performance credentials, although a Fiat-branded successor to the Fiat Barchetta isn't out of the question.
Fiat is also looking to simplify its range, binning the Sedici crossover and Bravo family hatchback in favour of a new member of the 500 family, on sale later this year. The 500X is the sister car to the Jeep Renegade and will be a more utilitarian crossover take on the 500L compact MPV, and rival the likes of the Nissan Juke and Skoda Yeti.
A fleet of new Fiats are due on-stream from 2015, with the European market set to receive a budget family hatchback, saloon and estate family – believed to be branded as part of the Panda family. A 'compact CUV', due to arrive in 2017, is expected to be a Nissan Qashqai-rivalling Panda SUV, while an all-new Panda will arrive in 2018.