Maserati Trofeo
Our verdict on stunning race version of the GranTurismo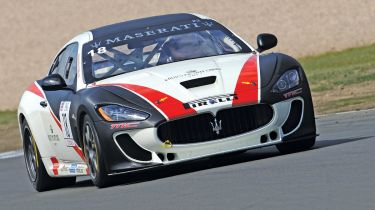 In the spirit of the legendary racing Maseratis of the Sixties, the Trofeo looks great and sounds amazing. Designed to offer thrills for drivers and spectators alike, it succeeds on both counts. Blending the core attributes of the GranTurismo MC Stradale road car with prodigious weight saving and top quality off-the-shelf motorsport components it's a fantastic race car that stays true to the firms street legal offerings.
It's the lightest and fastest Maserati money can buy. Closely related to the awesome MC Stradale road car the Trofeo is the competition version of the stunning GranTurismo.
Built to compete in GT4 racing or the one-make Maserati Trofeo series, this hard-edged track-only variant shares the same underpinnings and 4.7-litre V8 engine as the road car, but it's 370kg lighter than even the MC Stradale.
Video: watch the Maserati Trofeo in action
Open the feather-light carbon-fibre door and clamber into the stripped out cabin and it's clear to see where the weight has gone. All of the panels are composite, while the glass has been replaced with polycarbonate.
Inside, only the upper part of the dash and the classic Maserati clock remains, although it doesn't work! The rest of the cabin is pure motorsport technology - you get a high-tech Magnetti Marelli dash and data logger, a central switch panel and not much else.
Press the start button and the 4.7-litre V8 barks into life and, once on the move, the scintillating soundtrack echoes around the bare metal of the cabin.
We drove the car in the one-make Trofeo Championship, which takes place over nine rounds across Europe. Here, to place the emphasis on driver skill and take away technical advantages, all the cars are run in-house by Maserati Corse, while ABS and traction is removed.
This means extracting the best from the Trofeo takes skill, but with a full race brake system and the grip of the slick Pirelli tyres performance is sensational. While you can feel similarities to the road car, the lower weight and extra power, means the Trofeo stops, grips and accelerates noticeably better than even the Stradale.