Mazda confirms return of rotary engine as EV range extender
Mazda's compact Wankel rotary engine will be used to charge batteries in future EV; company confirms pure EV also headed for production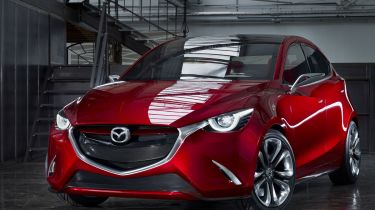 The Wankel rotary engine – last seen in the Mazda RX-8 – is to be reborn as a range-extender powerplant in a future Mazda electric car.
Taking a leaf out of the BMW i3's book, Mazda has confirmed it will offer two electric vehicles: one – a 'pure' EV – will be solely powered by batteries, while the other will be an electric car with its own on-board petrol engine generator – commonly known as a range extender, or REx.
• Best electric cars to buy now
But while the BMW i3 REx utilises a motorcycle engine as its range extender, Mazda will make use of its Wankel expertise to fit its REx model with a rotary engine. This type of engine offers a high power-to-weight ratio and is compact in size compared to a traditional reciprocating piston engine, making its use in an EV a natural application. 
The company says by offering a REx version of its future EV it will be "eliminating the range anxiety which continues to trouble a high percentage of battery EV users". The engine will also "burn liquefied petroleum gas and provide a source of electricity in emergencies." Mazda's EVs form part of its plan for 95 per cent of its sales to be electrified by 2030, with 5 per cent being pure EVs.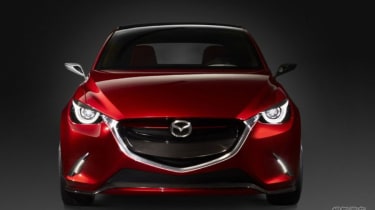 Insiders at Mazda previously told Auto Express that the Japanese brand is targeting a launch date of 2019 for its new EV. It will use Mazda's latest design language, set out by the new CX-5 and RX Vision concept (car pictured is the 2014 Hazumi concept).
Speaking at the 2017 Geneva Motor Show, European R&D boss Matsuhiro Tanaka said: "[A fully electric car] is one of the possibilities we are examining. A small car is best for an EV because bigger vehicles get too heavy with bigger batteries, and that doesn't make sense for Mazda."
While Tanaka didn't go into detail on the new model, it's expected to be a rival for the Renault ZOE. Asked about the platform for the EV, Tanaka told us that it would need to be "a new design, because even though our strategy with it is the same [as our current range], the technology is different. For example, there will be lighter materials". 
From 2021, Mazda will expand its range of electrified vehicles with a line-up of plug-in hybrid models. Tanaka said: "We are developing a concept with hybrid power. We already introduced a hybrid [Mazda 3] in Japan, so we have the technology." 
The Japan-only Mazda 3 hybrid uses tech from Toyota, but the company will be utilising its own Wankel know-how for the REx car. Auto Express drove a prototype Mazda 2 using exactly such a rotary powertrain back in 2013 while recent reports suggest the brand has patented similar technology in the US.
What is a Wankel rotary engine?
The reciprocating piston engine is the dominant force in the world of ICE (internal combustion engines), and the Wankel rotary never found mass-market favour.
Partnership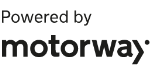 Need to sell your car?
Find your best offer from over 5,000+ dealers. It's that easy.
Developed in 1929 by Felix Wankel, it uses triangular-shaped (though with outwardly curved sides) pistons (typically between one and three) that rotate around a central shaft. The compression and combustion of petrol and air occurs at a spark plug, with rotor tips at each peak separating the intake, compression/combustion and exhaust sections of the chamber.
While it offers compact size, relatively light weight, a high rev limit and smooth nature, issues related to oil consumption and worn rotor tips meant owners who failed to follow maintenance schedules could face serious issues.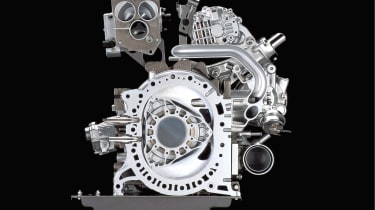 The first production car to make use of the rotary engine was the NSU Ro 80 of 1967, but it soon developed a reputation for poor reliability, with worn rotor tips a notably common issue. NSU was bought by VW in 1969, leaving Mazda to forge ahead with rotary development. The Japanese firm had better luck with rotor tips, and launched its first Wankel-engined car, the Cosmo 110S, in 1969.
The Mazda RX-7 and RX-8 coupes are the best-known rotary-engined cars. The RX-7 launched in 1978 and ceased production after three generations in 2002, leaving the RX08 (2003-2012) to take over the Wankel mantle. 
The return of the rotary as a range extender engine had long been considered a natural application of the powerplant, and Mazda's confirmation it will offer a rotary REx is likely to please Wankel enthusiasts.
Do you like the idea of a Mazda EV with rotary range extender option? Let us know in the comments and visit our sister site CarBuyer to see how the new Mazda EV could look...