BMW M5 Competition - best performance cars
The BMW M5 Competition makes the best super saloon even more super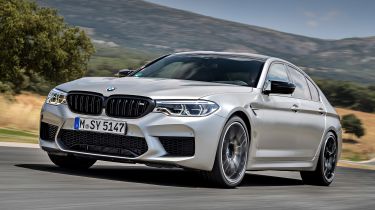 The current BMW M5 shocked everyone when it was revealed to be four wheel-drive. Any suspicions that the best super saloon over the past 30 years had forgotten its driver focused roots were quickly forgotten however, thanks to the regular M5's brilliant driving dynamics.
The Competition version adds 24bhp over the previous standard car to deliver 616bhp from the familiar twin-turbo 4.4-litre V8 set up. The upgrades sound minimal but together they deliver a noticeable difference over the regular model.
A firmer ride at slower speed is caused by a 7mm ride height drop and 10 per cent stiffer springs which also means the M5 hunkers down in the bends and provides improved cornering. Camber adjustment creates a precise turn-in and the steering is well-weighted, as a result the Competition feels much more nimble and agile than its size would suggest.
The price for the M5 Competition starts at just over £100,000. If you want to best super saloon available, the Competition is the one to go for.
Top 10 best performance cars 2021