McLaren confirms Apple talks but reveals no bid was made
September reports of Apple's interest in McLaren were accurate, but never progressed beyond talks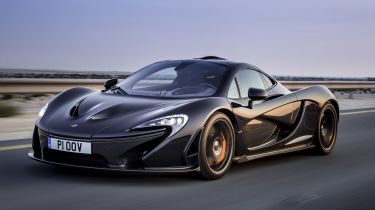 McLaren has revealed that it did hold talks with Apple regarding a takeover or a strategic investment, but no bid was ever tabled.
It follow reports in September suggesting Apple's interest in a bold takeover bid for the British supercar maker and Formula 1 team, stoked by an online story attributing sources close to the brand.
At the time a spokesperson for McLaren denied any potential takeover by Apple, but now a McLaren executive has confirmed that the reports were accurate.
Speaking to Reuters, McLaren Automotive chief executive Mike Flewitt revealed that Apple visited McLaren for talks, but there was never any bid from the Cupertino based tech giant.
• Best supercars on sale right now
"They visited. We talked. We talked about what they did. We talked about what we did. They toured. It never matured into a definitive proposition," he said.
Flewitt also confirmed that a "number of bids" from various parties for McLaren have been turned down in the past.
Apple is responsible for some of the world's most popular personal technology items such as iPhones, iPads and Mac computers. It has long been rumoured that the company is interested in entering the motor industry with a self-driving electric car, but more recent whispers have hinted that Apple is actually scaling back its automotive presence.
In recent months Apple has lost several key employees, many of which were said to have been working closely on the EV project. Online speculation since their departure has hinted at Apple changing tack by focussing its efforts on the internal systems required to power and run an autonomous car, rather than manufacturing the vehicle outright.
Earlier this year, Apple hired ex-Tesla exec Chris Porritt to oversee its 'special projects' division. This was presumed to include the forthcoming Apple Car, though news and rumours of 'Project Titan' have since died down. Apple was also rumoured to be in talks with BMW and Mercedes.
Apple's vision for a self-driving electric vehicle is – of course – at odds with McLaren's driver focused supercars. However, McLaren's Applied Technologies Group, which supplies extensive electronics expertise to the brand's Formula 1 team and third parties may have been of interest.
Should technology companies be more involved in the automotive industry? Let us know below...