Mercedes EQ Power brand launches for new plug-in hybrid models
EQ Power badging will be on Mercedes hybrids from this summer, with future AMG hybrid models to gain EQ Power+ designations.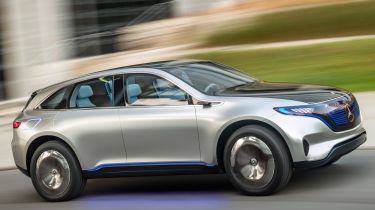 Mercedes has used the launch of its 2017 Formula 1 car to introduce a new sub-brand label for all upcoming Mercedes hybrid models, which will include high performance hybrid AMG cars.
All standard Mercedes plug-in hybrid cars will gain the EQ Power designation from the launch of the upcoming facelifted S-Class onwards, which we expect to arrive this summer. High performance Mercedes-AMG hybrids will carry the EQ Power+ designation as used on this year's F1 challenger, christened the Mercedes-AMG F1 W08 EQ Power+.
• Best hybrid cars on sale 2017
At the 2014 New York Motor Show Auto Express reported that Mercedes-AMG would begin building hybrid cars, when AMG chairman Tobias Moers told us petrol-electric AMG models would one day be "mandatory".
We know of at least one Mercedes-AMG hybrid model in the pipeline. The firm is plotting a new 1,000bhp hypercar using much of the V6 turbo hybrid running gear used in its championship winning Formula 1 cars these past four years, which will be limited just 300 units. Officially dubbed "Project One" for now, it should receive EQ Power+ badging when it breaks cover at some point in 2018.
The EQ Power badging is a spin-off of Mercedes' new sub-brand for its upcoming range of electric vehicles. Revealed at the Paris Motor Show last year, Mercedes will launch ten pure electric models by 2025 under the 'EQ' umbrella, with the first model expected to arrive in 2019.
That first car will be a production version of the Mercedes EQ Concept revealed at the show – a mid-sized electric crossover with which Mercedes is targeting an all-electric range of 310 miles.
Are you looking forward to hybrid AMG models? Let us know in the comments below.