Mercedes C350 Plug-in hybrid revealed
First look at 100mpg C-Class, plus Merc planning 10 plug-in hybrids by 2017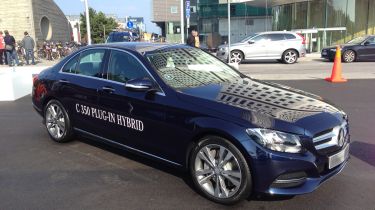 Mercedes has given us a sneak peak at a prototype for the C350 Plug-in hybrid, months ahead of its on sale date in early 2015. The C350 will be Mercedes' second plug in hybrid to join the range – alongside the new 100.9mpg S500 Plug-in hybrid – and there are plans to roll out 10 new plug-in models by 2017, Auto Express learned.
Technical details on the C350 Plug-in are scarce – more will follow in the New Year – but we know it will use a 208bhp 2.0-litre four-cylinder petrol engine (instead of the twin-turbo 3.0-litre V6 in the S500 Plug-in), coupled to an 80bhp electric motor incorporated into the seven-speed automatic transmission. Expect an electric-only range of around 20-miles, and even better fuel economy and CO2 emissions than the S500 Plug-in's figures of 100.9mpg and 65g/km.
"This is the start of a broad range of plug-in vehicles ranging from C to S," Ola Kallenius, head of sales and marketing told us. "To start with they will make up a single figure percentage of the sales mix, but it's definitely feasible that we'll hit double figures by 2020."
Mercdedes C350 Plug-in powertrain details
Key to the rapid expansion of Mercedes' plug-in hybrid line-up is the modular design of the powertrain. For example, while the S500 Plug-in and C350 Plug-in use completely different combustion engines, the gearbox and electric motor module, the power electronics and battery design will all be shared, speeding up the development process and dramatically reducing costs.
"High volume electrification is still in its infancy, but there are two ways we can look to reduce costs in the future – by increasing power density in the battery and by the industrialisation of the production process," Kallenius explained. "The key is that the hybrid module can be scaled and used across the various models."
Kallenius admitted there won't be any plug-in versions of its small car family (A, B, CLA and GLA-Class) on the current platform, although it will happen in the future. That suggests an A-Class to rival the plug-in VW Golf GTE is three years away, at least.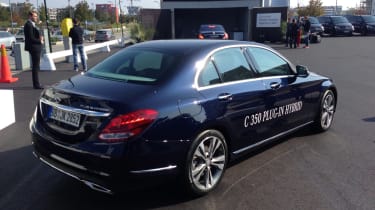 All ten plug-in hybrids scheduled to launch between now and 2017 will use petrol combustion engines, in order to maximise their global appeal, but Johannes Reifenrath, head of product strategy and planning hinted that diesel plug-in hybrids are part of the plan post 2017.
"We will see much lower emissions than 65g/km in the near future," Reifenrath said. "Next is diesel plug-ins and we can use the nine-speed auto gearbox, too – we can go well below 50g/km."
Although the 436bhp S500 Plug-in is hardly short on pace, expect higher-performance AMG plug-in hybrids in the not-too-distant future. "AMG hybrids make a lot of sense - the system is modular so it can be used with a V8. Most new supercars now are hybrid so I definitely wouldn't exclude the idea," Reifenrath revealed.
Despite the focus being firmly on plug-in hybrids, Mercedes hasn't forgotten about all-electric car either. The B-Class electric is about to go on sale in Europe, and Kallenius confirmed that all-electric versions of both the new Smart ForTwo and ForFour are on the way.