Mercedes CLA Shooting Brake officially confirmed
The fifth member of the Mercedes A-Class family is coming, and it's a sleek CLA estate spin-off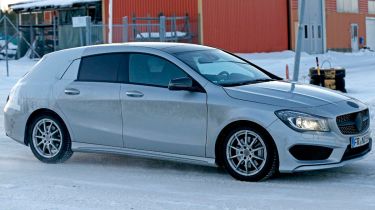 Mercedes has officially announced that an estate version of the CLA will be launched in 2015, called the Mercedes CLA Shooting Brake. Although we've previously seen the CLA Shooting Brake under test in various spy shots, this is the first time Mercedes has publicly admitted that it is bringing the car to market. Confirmed at the reveal of the facelifted Mercedes CLS and CLS Shooting Brake, Mercedes said that it will add the CLA Shooting Brake to its model portfolio in 2015. Mercedes is on course to complete its plot to spin five models from the A-class family, which so far includes the existing A-Class hatchback and CLA saloon, GLA crossover and B-Class MPV.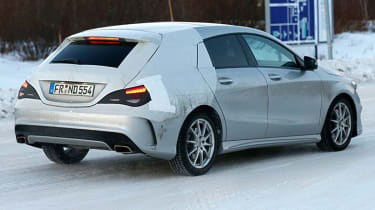 Cribbing rakish estate design cues from the larger CLS Shooting Brake, the CLA Shooting Brake will share its mechanical platform with the CLA saloon. That means we can expect an all-turbo, all four-cylinder petrol and diesel engine line-up, a choice of manual or seven-speed dual-clutch gearboxes, and front- or 4MATIC four-wheel drive. A range-topping CLA 45 AMG Shooting Brake offering 355bhp is also planned, which an expected price tag north of £45,000. The CLA Shooting Brake is the latest delivery in Mercedes ambitious push to offer ten all-new models between 2012 and 2020. The first was the CLS Shooting Brake, and since we've seen the CLA and GLA introduced.
Next up are the CLA Shooting Brake and AMG GT sports car, plus the BMW X6-rivlaling ML Coupe. Mercedes is also rumoured to be mulling four new variants of the S-Class, including two extended-wheelbase limousine versions and a cabriolet version of the S-Class Coupe. The next-gen GLK crossover will also be a newcomer to right-hand drive markets. Expect to see the Mercedes CLA Shooting Brake arrive in early 2015, priced slightly above the £27,000 - £42,000 CLA saloon range.