Mercedes GLA 250 SE review
The Mercedes GLA 250 mixes hot hatch performance with comfort and quality in a tempting real-world package
The GLA is an intriguing proposition, combining the low-slung looks of a hatchback with improved ride comfort, a much bigger boot and some basic off-road ability. This 250 model is the most refined in the range, but never feels as sporty as 208bhp suggests, so we'd go for one of the fuel-sipping diesels, or save up for the ballistic GLA 45 AMG. It's not cheap, but it improves in all the areas in which we've marked the A-Class down. Think of it less as an SUV and more as an A-Class Allroad and you'll soon see its charm.
If your wallet can't stretch to the full-fat Mercedes GLA 45 AMG, but you're after something sportier than either of the two diesels, the GLA 250 is made with you in mind. Powered by a 208bhp 2.0-litre turbocharged petrol engine, it covers 0-62mph in 7.1 seconds – enough to keep pace with most hot hatches.
Our test car was in SE spec – the lower of two trim levels but a smarter choice than an AMG Line model. Why? Because unlike AMG Line models, which are fitted with stiffer Sports suspension, SE models get comfort suspension as standard. That helps to make the most of the GLA's biggest advantage over the A-Class it's based on – ride quality.
• The best crossovers to buy now
Thanks to a 50mm increase in ride height, the Mercedes GLA doesn't exactly float down the road, but it doesn't crash and thud like the A-Class either. It makes for a far more relaxing driving experience, whether you're trundling through town or covering big miles on the motorway.
You don't even have to compromise on styling, as is the case with some slab-sided SUVs. The GLA is so low-slung (100mm lower than the Audi Q3, in fact) that it takes two glances to distinguish it from the A-Class. And despite sharing an identical wheelbase with the A-Class, the GLA's 481-litre boot is a full 40 per cent bigger.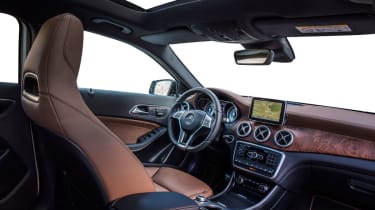 The engine itself is a curious mix. It's a lot smoother than the diesels and the acceleration is punchy, but the engine note tends to drone on rather than excite your ear drums. As a result it never feels quite as sporty as the numbers suggest, we'll let you decide whether that's a good thing or not, but for almost £30,000 we'd expect a little more drama in the powertrain department.
That raised ride height, and around 40kg of extra weight, means there's more bodyroll in corners than the A-Class, but not enough to stop you having fun. As you apply lock, the way the steering weights up feels inconsistent, but there are no complaints about how it reacts instantly to your inputs. We wish the same could be said of the standard-fit seven-speed automatic gearbox, which is slick enough in auto mode with light throttle inputs, but a bit slow to react when you click the paddles behind the wheel.
The GLA's 4MATIC four-wheel drive system (standard on all but the 200 CDI model) means you have to be carrying some serious speed into corners before you break traction, at which point the GLA errs towards gentle understeer. All four-wheel drive models have some basic off-road ability, too, with hill descent control fitted as standard. From later this year you'll be able to order a special off-road pack, which adds an off-road setting for the ESC, and raises the suspension by a further 30mm.