Used Mercedes GLA (Mk1, 2013-2020) review
The Mercedes GLA combines A-Class engineering with fashionable crossover SUV styling
Verdict
It's easy to see why the GLA has been such a success for Mercedes, because it has loads of showroom appeal. Most models have plenty of performance, a lot of standard equipment, and can cover long distances with ease, but the GLA has shortcomings, so you need to make sure that this is the right car for your needs. It's not as practical as it should be and it doesn't have the elevated seating position of some rivals. Prices are steep and while it's fine to drive, the handling is inert. Still, the GLA should impress your neighbours.
Which one should I buy?
Best Mercedes GLA for equipment: GLA 220 d 4MATIC WhiteArt Edition
Best Mercedes GLA for fuel economy: GLA 200 d SE
Best Mercedes GLA for driving fun: GLA 45 AMG
All GLA engines have four cylinders; the diesel should be more refined than it is, but it still makes the most sense because it offers plenty of muscle with the potential for 55mpg economy in the real world.
The manual gearbox is fine to use but the seven-speed automatic makes driving the GLA very relaxing, which is why it's the transmission to go for; it'll also make the car much easier to sell on. All GLAs are well equipped, but the options list is extensive, with lots of packs available, so establish the exact spec of any potential purchase. The key trim levels are SE, Sport and AMG Line; the GLA45 AMG gets its own equipment list. Other models include the WhiteArt Edition, introduced in 2017, plus the Urban Edition of 2018.
The GLA was facelifted in April 2017, so later cars make more sense when buying used. Revised styling to make the car appear chunkier, improved standard equipment and a revamped interior are the highlights. Short of finding a GLA with all of the option boxes ticked, the rare WhiteArt Edition is the plushest version you can buy. It's highly recommended, but don't pay over the odds.
What are the alternatives?
While the original BMW X1 wasn't a very convincing car, the second-generation model that arrived in 2015 is a cracking crossover with efficient engines, excellent build quality and an inviting driving experience. Like the GLA, it's no bargain.
The Audi Q3 is also very accomplished and while its driving experience and cabin design are rather clinical, it's an easy car to recommend with its strong, refined engines and decent reliability record. A Mazda CX-3 is a less obvious alternative that's great to drive, has a very high-quality feel and excellent engines. While its practicality is compromised, it's very good value.
The original Range Rover Evoque is worth a look, too, now that prices have dropped. 
Infiniti QX30 vs Mercedes GLA vs BMW X1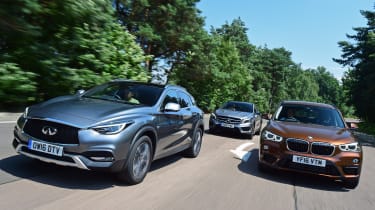 When is a Mercedes GLA not a Mercedes GLA? When it's an Infiniti QX30. In 2016, the QX30 was the new crossover on the block, so we were keen to see if it could upstage its platform-sharing counterpart. Thanks to its lower price, longer list of standard kit and smarter cabin, the Infiniti finished above the Mercedes, but it couldn't topple the BMW X1 from its perch. Read the full test here...
Mercedes GLA vs Range Rover Evoque vs Audi Q3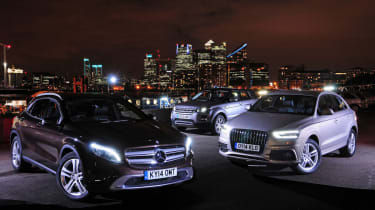 Going back even further to 2014, the Mercedes GLA faced a formidable challenge when we pitched it against the Range Rover Evoque and Audi Q3. We criticised the GLA for feeling too much like a Mercedes A-Class hatchback, with a decent price and low running costs not enough for it to beat its rivals. Read the full test here...